A grand performance Senior Alec Wizar scores 1,000th point for Wilkes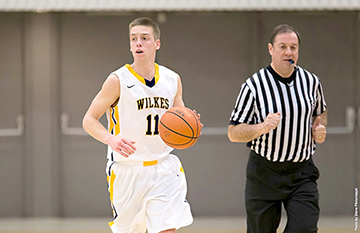 Numbers can spark important memories just as they inevitably mark milestones. For Alec Wizar, the number "1,000" will forever make him smile as a reminder of his monumental basketball career at Wilkes University.
On Jan. 22, Wizar, a senior communication studies major, scored his 1,000 point early within the first half of the men's home basketball game against Fairleigh Dickinson University.
Wilkes won the game in double overtime.
Wizar, of Annville, Pa.,  began playing basketball through his local elementary school in a Sunday afternoon recreation league. He was 8 years old at the time. Wizar went on to play shooting guard at Annville-Cleona High School, which led him to play the same position at Wilkes.
"At first I didn't take basketball very seriously, until I was persuaded to tryout for a travel team in the fourth grade," Wizar shared. "I only made the B team as where all my friends made the A team. From then on, I started working hard on my game so I could improve and play on the A team the following year."
As a freshman in college, reaching this milestone was a very far-fetched dream for Wizar, but he never lacked confidence in his ability to achieve it.
Headed into the FDU game, Wizar knew he was only four points away from reaching 1000. He hit a three pointer within the first five minutes of the game, bringing him to within one point. A few minutes later, Wizar hit a fadeaway midrange jumpshot off a baseline out-of-bounds play for his 1,001 point.
"Being that I was in the flow of the game, I felt no different after reaching the plateau because all I was concerned about was getting a stop on defense," Wizar explained. "However, shortly after when I was removed from the game, I received congratulations from my coaches and teammates on the bench, and it was at this moment that it really sunk in."
Head coach Izzi Metz feels team goals should be the priority, but it's also important to recognize dedication.
"To reach this milestone is a testament to Alec's hard work, durability and coachability," Metz said. "His teammates and coaches were thrilled for him. He will represent Wilkes University very well in the 'real world' when he graduates this spring."
Wizar is only the 30th player in Wilkes history to surpass 1,000 points. He claims this never would have been possible without the constant support from family and teammates.
"My mother and my father have been at every game since the start of my freshman year, and whether the result was good or bad, they supported me wholeheartedly," Wizar said.
Senior small forward Devin Dunn gave praise to his teammate.
"Alec truly earned every one of his 1,000 points," Dunn shared. "He's one of the best players I've ever had the opportunity to play with because he makes everyone around him better."
Wizar is most thankful to his family, friends, fellow seniors with whom he has spent four years on the court, and his professors who have been very understanding of his busy schedule as a student-athlete.
"Making the decision to come to Wilkes to study and play was an extremely difficult decision, but it's clear to me after four years that I made the right choice."