Getting to know… John Scalese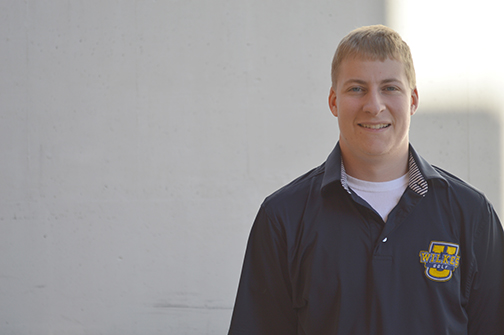 Junior John Scalese from Medford, NY majors in finance at Wilkes along with playing on the men's golf team.
Q: What was the driving force for your decision to come to Wilkes?
A: I wanted to escape my hometown and see life from the view of another state.
Q; What do you hope to do with the degree you obtain from Wilkes?
A: As a finance major, I hope to work for an investment firm and manage stock portfolios.
Q: Any predictions for the upcoming season for men's golf?
A: We almost topped the MAC last year, so we hope to be number this year and bring home the wins for Wilkes.
Q: When/Why did you first begin playing golf?
A: I first started playing seriously  at 13, right before I started high school. Before that I played for fun, but at 13, I started to take golf very seriously, in the attempt to make the high school golf team.
Q: If you had to choose one thing about Wilkes' golf program that you could improve, what would it be?
A: I wish more students wanted to play golf. It's a great atmosphere and everyone is so amazing, and all we want is more people to be interested
Q: What is the biggest challenge you have faced growing up?
A: When I was 7, I was diagnosed with leukemia. Being so young and not being able to understand the seriousness of my illness, I did not know what was going on and I was scared but through the support of my loved ones, I was able to overcome my cancer in two short years.
Q: A quote you live your life by?
A: "Life is too short to be stressed all the time." -Tejuss Kakarala
Q: Do you have any advice for the freshman student athletes beginning their freshman seasons and semesters?
A: Love the sport you play, don't ever let mistakes guide your athletic life.
Q: How do you feel about the changes being made to campus this year? What do you like or dislike?
A: I love the new look this campus has. It has a great inviting image. I hate the loud construction outside my apartment in Towers.
Q: Which Wich or the Old Rifkin, which do you prefer?
A: Which Wich, 100%. I go there more than I eat at the café.