Getting to know: Edwin Metzger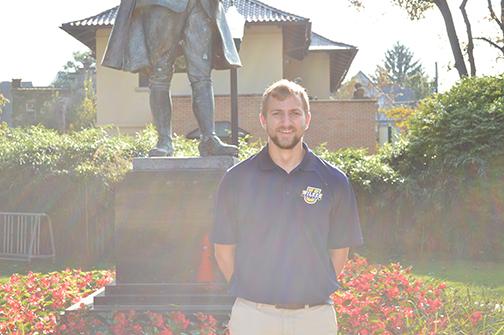 From Carlisle, Pa., Edwin Metzger is a 2012 Graduate of Carlisle High School. Metzger came to Wilkes to pursue a degree in Mechanical Engineer and is a midfielder for Men's Soccer team.
Q. What was the driving force for your decision to come to Wilkes?
A. I knew that the engineering program at Wilkes was a very good one, and the fact I
knew I would be playing soccer helped my decision.
Q. What are your plans in terms of soccer after college?
A. I hope to at least play in a Men's Rec. League team.
Q. What are your hopes for your final season as a Colonel?
A. I hope that we will make the MAC playoffs and be over .500.
Q. When/Why did you first begin playing Soccer?
A. I started playing soccer when I was five years old.  Most kids try soccer when they are young, and I stuck with it.
Q. If you had to choose one thing about Wilkes' Soccer Program that you could
improve, what would it be?
A. I would improve the locker room, because it is way too small for our whole team.
Q. Do you have other sports/interest/hobbies off of the field?
A. Fishing, hunting, and hanging out at 78.
Q. Who would you say is the most influential person in your life?
A. My father is the most influential person in my life — because he is the man!
Q. Do you have any advice for the freshmen student athletes beginning their freshman seasons and semesters?
A. Know how to organize your time with school and sports.  Make sure that you put
school in front of sports.
Q. How do you feel about the changes being made to campus this year? What do you like or dislike?
A. I feel that the changes to the campus are helping the school out.  The Gateway Project really opens up the campus from towers to the Greenway.