Men's Soccer looks to make playoffs this season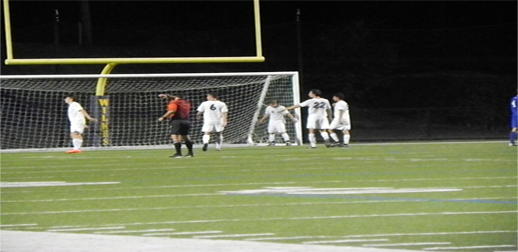 ach, Phil Wingert, has been at the helm for the Colonels the last 33 seasons. After finishing 9-6-1 the previous season, Wingert hopes to have an improved season this year and for the team to achieve the goal it has set this season, which is to reach the Freedom Conference playoffs.
He hopes so because the current seniors have not been able to reach this goal. Despite starting off the season 1-4, the Colonels added a big win last Wednesday night over Baptist Bible College, with a resounding 5-0 victory.
Three goals came in the first seven minutes of the game, one from senior forward Eric McAnena, and two from freshman forward Adam Snyder. The freshman's two goals were the first of his collegiate career.
In the second half, McAnena went on to score once again in the 69th minute. Another freshman, midfielder Matt Lindo from Hazlet, New Jersey, was able to join the scoring party and net in another goal in the 89th minute.
The next game for the Colonels is Wednesday when the team travels to Elizabethtown to face-off against the Blue Jays at 7 p.m.s The Colonels hope to notch another victory on their belts so they can achieve their goal of making the Freedom Conference playoffs for this senior group led by forward captain Eric McAnena, defender captain Ryan Joyce, midfielder captain Tyler Young, defender captain Geoffrey Arentz, goalkeeper Patrick Loube, and the back-up keeper Kyle Romm.
When asked about how his team is, Coach Wingert replied saying, "It's a very close knit group, it's a good mixture of experience players with good senior leadership. So it's a good group of seniors, but there's also a mixture of juniors and sophomores, and a pretty talented freshmen class as well."
Some players that contribute to this mixture are junior captain Eddie Metzger, sophomore defender John Stoner, who was expected to have a big year but unfortunately suffered a serious injury five minutes into the first game, junior midfielders Hunter Murray and Justin Weaver.
Two members of the freshman class that have earned starting positions and have made an immediate impact are midfielder Austin Kubin and defender Casey Ritsick.
What is unique about this team is that even though they do not have any pre game rituals or anything of that nature, Coach Wingert defers pre-game speeches to his seniors so they can fire up the squad and rally them to victory. According to Wingert, he does this because according to him he is not a real "rah-rah, bite the head of the snake off in the locker room before the game kind of coach."
This method has been working for Coach Wingert the last 33 seasons, and he hopes that they can finish the season strong to achieve the goal of bringing the senior class to the Freedom Conference playoffs.