Wilkes begins new era with Trey Brown as coach
Coming into Saturday's game against the Muhlenberg Mules, Head Coach Trey Brown predicted that if the team played with a lot of enthusiasm and a high level of execution they could win. Ultimately, the Mules were just too much for the Colonels. Saturday's game ended 34-0.
Brown knew that it would be no easy task going against his former school, which going into Saturday's game was ranked 18 in the nation, according to The Sporting News.
This season Muhlenberg is returning 19 starters including nine players from a defense that surrendered only 14.5 point per game. On offense, the team returns eight players from a group that last year averaged 34.3 points per game.
A name to keep an eye out for on the Mules is All-American tight end Michael Long who had over 500 yards and four touchdowns last season.
Quarterback Nick Palladino who is entering his sophomore year for the Mules adjusted well last year as he took over during the second game of the year due to an injury. As a freshman he threw for over 2,000 yards including 14 touchdowns on his way to being named the conference rookie of the year. One of his favorite targets last season was Cody Geyer who is entering his senior year. Last season Geyer had 60 receptions for over 1,000 yards receiving and 10 touchdowns.
Brown believes the Mules are a successful team because they are coached hard and play hard.
"They have a lot aof guys that have played together for a while and that helps" Brown said. "With that experience you have a little bit of success, and then with that success you gain some confidence," Brown said during an interview before the game. "It is going to be a test, but that is why you play the game."
After finishing 4-6 last season including going 3-6 in MAC play, Wilkes looks forward to a New Era of football in 2014 under Brown. Four of those six losses were decided by a touchdown. This year's offense will look different than it has in years past thanks to Brown's fast pace offense.
Like many Division I programs, Brown is running a no huddle offense where his goal is to snap the ball in under 10 seconds. Unlike in years past, Brown will run a more balanced offense. They will spread the field, trying to keep defenders guessing what is coming next.
Sophomore Ryan Dailey was under center against the Mules making his first collegiate start. Dailey looked to show that he is able to run a collegiate offense, as many have said that he is inexperienced due to the fact that he has not taken a college snap.
"Ryan has done a nice job so far, I think he has a great grasp of the offense," said Brown, when talking about Dailey. He will have plenty of options to throw to on the field as seniors Jon Conklin and Tim Bousson will be Dailey's top options.
At tight end seniors Drew Devitt, Ryan Casey and Jeremy Hartman split time taking snaps. Hartman ,who is also a Wilkes basketball player, has had a good camp so far as is a big target for Dailey.
In the backfield pre-season, All-American Nick Dawson returns looking to lead the way for backs Ryan Behrmann, PJ Incremona, Dustin Jones and Paul Martin. Jones was one of Wilkes highly regarded recruits who comes from Lake Lehman High School where he was All-State.
On defense, Wilkes is returning nine starters from a defense that forced 23 turnovers last season and was one of the best in the conference.
Linebackers Tate Moore-Jacobs and DJ Shuttleworth will be missed, but Brown is confident is linebackers Mike Condrad, Tanner Geake and Mike Paskas who have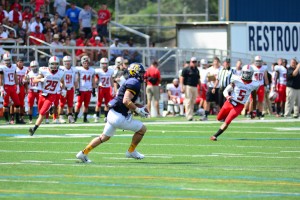 all had great camps and will look to impress this upcoming season.
Defensive tackles Jeff Lee and Jon Koslop are back this season along with ends Jason Ugwu and Tyler Thomas who will look to cause havoc to opposing teams.
The secondary is arguably the strongest
 part of the team this season. Preseason All-American Omar Richardson is entering his senior year along with safety J.T. Keer.
Juniors Marcus Leaf and Jarred Powell flip-flopped positions this year as Leaf made the jump to safety due to athletic ability. Last season Keer had 64 tackles, one interception and four pass break ups.
On special teams junior Bryan Mellon is ready to take over as punter as former punter/kicker Jordan Fredo graduated from last season. Splitting time kicking this will be Bryan Mellon, Stephen Brundage and Nick Behrmann as Wilkes looks to find a kicker.
Wilkes couldn't get things going against the Mules under Brown, losing Saturday's game 34-0. The Colonels struggled to get going early in the game and it showed during t
he game as the offense only completed eight first downs throughout the game. The offense was only able to put up 112 yards during the game with Dailey throwing for 75 yards while backup quarterback Marcellus Hayes threw for 42 of them.
On defense, Leaf and sophomore Tanner Stengel led the team with eight tackles each. Senior linebacker Nick Gray had seven tackles and a sack, while linebacker Mike Paskas contributed with six tackles.
Wilkes will look to bounce back next Saturday against Misericordia. The game against Misericordia will be Wilkes' first MAC conference game this year, and the team looks to beat them for the third straight year.