New men's basketball coach to lead Colonels
Wilkes University has chosen Izzi Metz to coach the men's basketball team for the 2014-2015 season.
Izzi Metz, who will begin his new career at Wilkes next year, has high hopes for the team and will fill the spot of former coach, Jerry Rickrode.
"I looked at Wilkes as a greater opportunity because the success that Coach Rickrode had in the past and I knew the area in Pennsylvania that it was located and I just thought it was a great area obviously to live and to work," Metz said.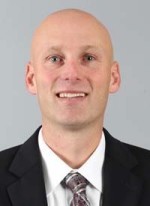 Metz was the assistant coach at Boston College and was also the head coach at Hobart College. He has hopes to bring is knowledge and experience to positively impact the Wilkes program. Metz also shared his outlook on the comparison from Division One to Division Three sports.
"I say this — and maybe it sounds silly — but basketball is basketball and players are players," Metz said. "I think the big thing is less travel in terms of maybe getting on a plane and going somewhere which sounds great and is fun, but I'm looking forward to some good local rivalries."
A new coach is an opportunity not only for the coach himself, but for the players and team as a whole. The men's basketball players had the opportunity to meet Metz and are eager to begin the new season, including sophomore captain Devin Dunn.
"He has a great relationship with us already and we can't wait to have the chance to make a run player under him," Dunn said.
Metz also shared his excitement to work with a team who is ready to compete and work hard.
"They're great guys," Metz said. "They kind of share the values of what's important to me. They're hard working and they're talented in their each individual way."
As the school year ends, the new beginning for the basketball team is just beginning. With a long time frame for preparation, the team hopes for a season of success.
"I think all the successful programs share a commonality, which is to be passionate about what you do, work hard, out work your competition, and to be excited to get in the gym and to continue to get better and improve every day," Metz said.