Led by senior co-captain Alex Makos and junior co-captain Brendon Blachowski the Colonels are off to a 6-0 record and looking to win their seventh straight Freedom Conference championship.
Last season the team finished with a record of 16-4 including a 6-0 record in league play. Junior Steven Wilson who is the reigning Freedom Conference player of the year returns back to the top singles spot this season after finishing 14-9 last year.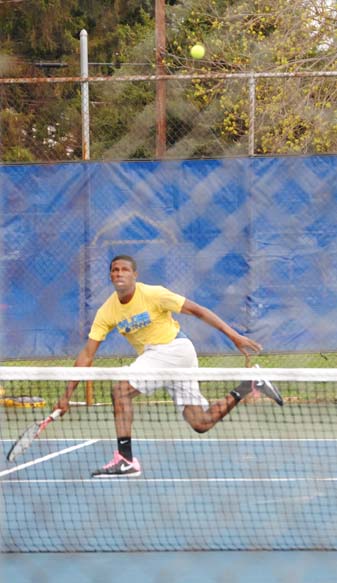 He collected his first Middle Atlantic Conference individual title last season and is off to a good start this season with a 10-3 singles record and a 10-2 doubles record with teammate Makos.
Sophomore Max Appello has started strong at 10-3. He looks to assist the team this season from the number two singles position after going 24-2 last season from the four position.
The Colonels finished 4-0 during their annual spring break trip down to Hilton Head Island. They opened up play in Hilton Head with a 6-3 victory over Malone University.
In the match the Colonels took four of the six singles flights, and two of the three double flights. Freshman Dominic Parfianowicz won his singles match with a score of 6-0, 6-0 at the number three position.
In doubles play, the duo of Steven Wilson and Makos posted an 8-2 win at No. 2 pairs.
The next day the Colonels swept a pair of matches as they beat Roanoke College 8-1 and Ashford University 5-4. Sophomore Michael Kranz was among many players who claimed straight set wins.
Among those who won was freshman Adam Lefkandinos, who felt confident after his big upset win at the No. 5 position.
"I feel like a boss. I clinched two big wins against D2 schools," Lefkandinos said after his big win.
Freshman brothers Dominick and Jacob Parfianowicz won 8-6 as the No. 1 pairs in the flight.
To wrap up their spring break trip the Colonels picked up a 6-3 victory over Brevard College.
The incoming freshmen this season add great depth to an already talented program. Brian Murray said he is excited to be playing tennis this season for Wilkes.
"I am proud to be part of such a great team, and hopefully contribute to the success of the team," Murray said. Murray has a 3-1 record and looks to help the team out this season.
The Colonels play rival King's College on April 8 and begin Freedom Conference tournament play April 30 as they begin their quest for another conference title.
Just like the men's team, the women's team will look to continue their dominance of the Freedom Conference as they look to capture their eighth straight conference crown this season.
Last season, the Lady Colonels finished 19-3 including a 6-0 mark in league play. So far the team has a 7-1 record and is on the right path toward another conference championship.
Senior co captain Ally Kristofco takes over at the No. 1 singles position with the graduation of four-time Freedom Player of the Year Melanie Nolt.
Kristofco looks to become the school's all-time leader in singles wins as well as doubles wins in her final season. She finished last year with a 20-2 mark and currently has a 7-3 record this season.
Co-captain senior Amanda Rossi and junior Anastasia English add experience and leadership to this year's team. This year's team is a young team as it features nine underclassmen.
Freshman Kendra Crocker, Alanna Denauski and Madison Salmon add depth to an already talented team. In the fall season Crocker finished 6-1 while claiming the MAC individual title. Crocker has an 8-2 record and is looking forward to her time as a Colonel.
"So far the season has been amazing," she said. "Not only have I improved with the help of Coach (Chris) Liecht and his staff but I have met a truly amazing group of friends.
"I am sure I will find many challenges during the season playing different individuals, but I hope to face each one on an individual level and do my best to succeed," she said about her challenges down the road as a player.
The Lady Colonels opened up their trip to Hilton Head Island with a split in two matches with a win over Malone University and a loss against Roanoke College.
Wilkes took five of six singles flights in the win over Malone. Kendra Croker was a 6-4, 7-6 winner at No. 2 singles. Taylor Hoffman followed with a 7-5, 4-6, 1-0 win at No. 3 while Amanda Rossi and Madison Salmon each recorded straight set wins.
To conclude their trip down to Hilton Head Island the lady Colonels blanked Saint Rose winning 9-0. They swept all six single flights and went 3-0 in doubles allowing just eight points through the three matches.
The Lady Colonels open Freedom Conference play starting March 29 at Arcadia University.