New era begins in Wilkes football
Since 1946 Wilkes began playing football and since then there has been plenty of history within the program.
In their first season, the Colonels went 6-0 under Coach George Ralston. He posted a 41-32-4 record from 1946-54 and then another season in 1957. From Ralston there was then Rollie Schmidt who coached from 1962-1981 putting up a 90-73-1 record including winning 32 games straight from 1965 to 1969.
Last season the program picked up its 300th win which took seven different coaches to accomplish.
Then there was Frank Sheptock who took over the program in 1996 and until last season he won a school record 107 games in 18 seasons. Now there is Trey Brown, who plans on bringing a new style of playing to the program.
After a two-month search, the Wilkes University football program finally found their man. After Sheptock resigned to become Berwick High School's athletic director, Wilkes conducted a national search for a replacement which featured over 200 applicants.
During the search, seven candidates were interviewed on campus by a panel of administrators including the Vice President of Student Affairs Paul Adams, Director of Athletics Addy Malatesta, Ted Yeager who is member of alumni executive board, coaches Frank Matthews (softball) and former head coach Jerry Rickrode (men's basketball), and football players Omar Richardson and Nick Dawson.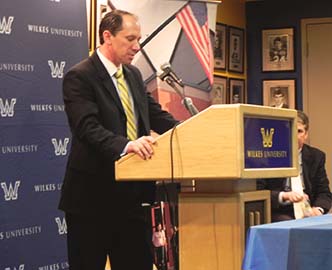 Brown takes over as the eighth head coach in the 68-year history of the program. He brings his 16 years of coaching experience to the table and has coached all around the country. He is originally from Longmont, Colo., and graduated with a bachelors degree in marketing in 1993.
In 2003 he graduated with a master's degree in health and physical Education and Recreation from St. Mary's College of California.
Before taking over at Wilkes University, Brown was the quarterbacks coach and special teams' coordinator for four years at Muhlenberg College in Allentown. At Muhlenberg he was responsible for coaching the quarterbacks, wide receivers, and special teams as well as the installation of the pass game.
Last season Muhlenberg averaged over 417 yards passing while putting up 37 points per game. During his time on the coaching staff the Muhlenberg Mules went 29-14, which included a berth in the 2010 NCAA Divisional III championships. Brown plans on his bringing his high scoring fast pace offense to Wilkes.
"I have always aspired to be a head coach and when the position came open at Wilkes I grew excited," Brown said in his press conference. "I felt Wilkes University had a lot of the same qualities and beliefs that I have developed in the past 16 years of coaching. I felt Wilkes understood what it meant to be a student-athlete, and the expectations that come with that.
"I was also impressed with the football tradition, and was excited to enhance and strengthen the tradition for years to come," he said. "I am very fortunate and incredibly honored to have this opportunity."
Prior to coaching at Wilkes, Brown was the offensive coordinator and quarterbacks coach at Lehigh University for four seasons. As the offensive coordinator and quarterbacks coach, Brown led the offense to scoring 30 points 15 times in his four seasons. In 2006 he led the offense to a Patriot League best in scoring, and coached quarterback Sedale Threatt to All-Patriot League first team. In 2008 he led Lehigh to a Patriot League best in red zone efficiency scoring 87.9 percent of the time.
From 2001 to 2005, Brown spent one year with the tight ends and four with the wide receivers at the University of Pennsylvania where he coached two of the most prolific receivers in the history of the program. During his time with University of Pennsylvania, the Quakers were a combined 40-9 including winning the Ivy League championship in 2002 and 2003, scoring over 40 points per game.
Prior to arriving at the University of Pennsylvania, Brown was an assistant coach at Stanford University from 1998-2000. During his three seasons at Stanford, he was part of a coaching conference that was named coaching staff of the year by the Pacific 10 conference after they won the Pacific 10 championship. The team also appeared in the Rose Bowl in 2000 while Brown was on the staff.
Now Brown finally can live out his dream of becoming a head football coach.
"I've always aspired to someday have an opportunity to be a head football coach, but I realize that dreams don't always match reality in my business," Brown said. "It just doesn't work out that way. There are a lot of great football coaches out there at all levels, from high school all the way to the top that may not get a shot at being a head football coach. And I feel really honored and excited to have that opportunity" said Brown during his press conference.
In a recent interview, Brown said his expectations are for the team to "keep getting better each day as a group and keep improving."
When asked about what he would do to help out the offense "the one thing we are going to be is consistent," Brown said. "That is a term that is big with me, and I think we are going to have some beliefs in what we run and our beliefs are going to be based and deep rooted around our personnel and we are going to do the things we feel as a staff that our players can do well."
He also went on to say that "I do believe in snapping the ball fast and running a no huddle offense, and what we do out of the no huddle will be purely based on our personnel. I am a big proponent of taking of taking the strengths of your team after you evaluate their skill set and kind of molding them into a program or belief that gives you the best chance to succeed," Brown said.
Brown will play a huge role in bringing the program back to where it used to be. Since winning the Middle Atlantic Conference in 2006 the Colonels have struggled going 33-38 overall while posting a 27-27 conference record. They have had just two winning seasons since going 11-1 in 2006.
Brown hopes to bring back the 7,8,9-win type seasons the team is a custom to.
During his press conference Brown said "the success of the team will not be accomplished by him, it will be accomplished with a collaborated effort. It is important for everyone to have a hand in the success of where Wilkes football wants to go in this new era. I will need help from everybody on this campus."
So far there have not been any changes to the coaching staff other than Brown, and Brown said "things will stay the same until further notice." He also feels confident in the recruiting process so far. He feels like the assistant coaches have done a great job while he was not here and is happy to jump right in and getting recruits to play for the Colonels.
Many players are excited to see what Brown can do.
"I think coach Trey Brown has the best intentions for this football team, and I think with hard work from the coaching staff and players this team can be a powerhouse in the MAC" said freshman Dominick Ammirato.
"Freshman wide receiver David Claybrook said Brown is "down to earth and easy to talk too, as he is always looking out for our best interests."
Sophomore safety Jared Powell said he is excited for the change and that hopefully he "can bring the MAC back to the Rac."
Sophomore corner Marcus Leaf is excited for the upcoming football season.
"I'm interested to see what he is going to bring to the table," Leaf said. "Considering he is bringing in a new defensive coordinator, it is going to be interesting to see what happens."
The whole community is excited for the changes taking place and is looking forward to this upcoming season. Wilkes looks to bounce back next year and make a run toward the MAC championship.