Wilkes falls in double-header against Eastern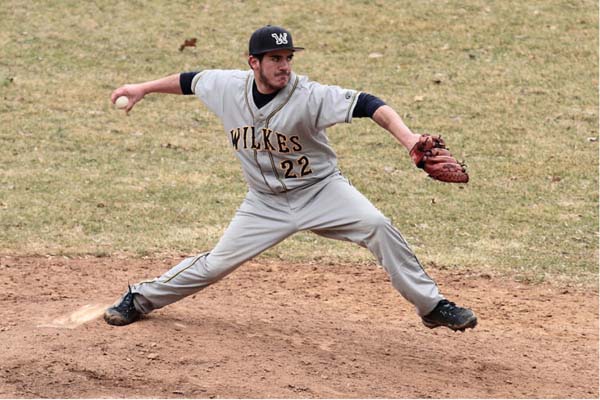 After winning its season opener on Friday, the Wilkes baseball team dropped a double header to Eastern University. Eastern took game one 4-3 before earning a 10-0 shutout in game two.
Wilkes fell to 4-6 overall and 1-2 in the conference games after the three-game Freedom Conference game opener. Eastern improves to 2-6 and 2-1 in the conference.
In game one, Wilkes took the lead early in the game, when there was a score in the first inning. The Eagles tied the game in the bottom of the second with two steals with runners on first and third.
"I think after we lost the first game by a close margin," senior Tyler Marino said. "We were disappointed and lost some focus in the second game of the doubleheader."
Wilkes bounced back with its first home run of the season by Joshua Slocum in the top of the fourth giving Wilkes a 2-1 lead. Eastern responded in the bottom of the fifth with three runs to finish with the win.
"I felt like we played well Friday and the first game Sunday," sophomore Deep Patel said. "Our pitching and defense were good both games. Our hitting was decent but could have been better which will come around as the season goes on and we see more live pitching. The third game I felt like we lost focus and energy. Conference weekend series are long and exhausting so we just have to do a better job of staying focused. I think we'll bounce back starting this weekend against Delaware Valley" said Patel.
In game two, Wilkes only managed three hits with two hits coming off the bat of Sophomore Marcus Leaf. Eastern had no problem finding their rhythm at the plate getting 12 hits off, including a two-run home run in a five run second inning.
Eastern Pitcher Barry Jost went five scoreless innings and sealed off the deal winning 10-0 against Wilkes.
In the week ahead, Wilkes is at Penn State-Berks March 26, at DeSales March 28 and home vs. DeSales March 29.