Athlete of the Week: Alex Makos, senior tennis player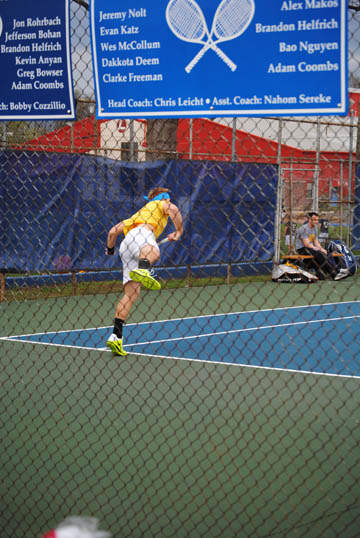 Meet Alex Makos, a senior marketing major minoring in psychology and management. He is the captain of the Men's Tennis team. He took time out of his busy schedule to sit down and talk to The Beacon.
Where you from?
I am from Mansfield, PA, It's located in North Central Pennsylvania.
What sport do you play?
I am a Tennis player here at Wilkes University. I played other sports in high school but Tennis Is really my racket.
When did you start playing Tennis?
My dad taught me when I was younger but I started taking it seriously in junior high when I gave up on my dream of becoming a professional football player. As I got older and matured I started to focus more on Tennis.
Who is your favorite Tennis player?
Roger Federer is my favorite and he is a role model on and off the court. He is a classy guy and that is why I like him so much.
How does it feel to be Upperclassmen on the team?
I am the team captain along with Brendan Blachowski who is a junior. I am the only senior on the team so it's nice but then yet again it is kind of lonely. Our team is phenomenal and we have five new freshmen who are so eager to pick up where everybody left off where they graduate.
Any Major Responsibilities as being captain of the team?
I organize team bonding events to help the team to get to know each other better. I also help with rides to and from the fields. I think my biggest responsibility is reaching out to all the guys and seeing how they are doing with classes and tennis because it really takes up a lot of time and is a big commitment. Also I have to motivate players when they are on the court
How many times a day does the team practice?
We practice once a day and we typically go for an hour and a half to two hours. When you get into some majors like Engineering and Pharmacy it is hard for the players to stay for the full time because they have to cut practice short just to make it to one of their labs and they are getting there tired and all sweaty. It is really a lot for them to juggle and as captain I reach out to them and assist them in any way I can.
What are your goals for the team this year?
We have to take it one match at a time. Last year at the NCAA tournament we won our first round but lost in the second round. So our next goal would be to win that second round and stay around in the NCAA tournament. Before we can get there we have to win the MAC and then go from there.
Awards you received playing Tennis?
I was chosen for the MAC all-century team which is a big accomplishment. I also have been named to the honor roll for Tennis for two years now. First team all-conference two years in a row. I was named conference MVP freshman year. Although this is not Tennis related, but still related to sports I was named NSA All American and was the first to receive here at Wilkes University.
What does it mean to be an NSA All American?
The award is giving out to one male athlete and one female athlete a year. The recipients are nominated by coaches and the student body. Recipients of this award display leadership and hard work. I got my name on a plaque and it is on the wall in the weight room which I call the "Wall of Immortality". This award is for every sport and I was chosen over basketball, soccer and football players which was very humbling.
How did it feel to be a recipient of this award?
I was surprised at first and really only heard about it freshman year. It was such a great honor and is something I carry around with myself. I try to make myself better because I received this award. I now have to live up the standards of being an All American, and that is something I have been trying to do senior year.
Academic awards received here at Wilkes?
I have been named to the dean's list two years in a row, and I am very happy how I have done academically here at Wilkes.
Who has influenced on you training so hard to be In the position you are today?
Tennis coach Chris Leicht who really motivates me to be who I am. Then there would be Coach Keith the strength and conditioning coach here at Wilkes University. He is the best training coach that I have ever worked with and even other coaches have said that he is one of the best to work with.
How often do you train?
Right now my schedule that I am following is I lift twice a week and then I play every single day. Then on the weekends we have tournaments and it all just depends about how the schedule is. Obviously I will not lift before a match. Whenever I can get extra hitting time in I usually take advantage of that.
What are your rituals or superstitions?
Tennis players are very superstitious. I always wear a bandana whenever I play because Roger Federer wears one and I try to model him as a player. Another thing I do, is when I am done with my tennis racket I put it back into the plastic bag I bought it in. I like to think it preserves my strings and the racket.
How many rackets do you have in your bag now?
I have four but I always carry an older version of one of the models I use, so I have five in my bag now.
You sound like a busy guy, but what do you do in your spare time?
In my spare time I play the harp, I play some XBOX preferably Call of Duty.  I am taking up sculpting and I am pursuing it on my own.
What is your favorite thing about Wilkes?
That is really a tough question, because there really are many things I love about this campus. One thing I love about it is the class size and how small they are. Another thing I love is the location; I am two hours away from home which is great. I like to tell people that I am far enough where my Mom cannot show up without telling me, but close enough where I can go home whenever I like.  Also I love the traditions that are carried out here at Wilkes as a campus community, and as a tennis team.
What is your future job that you want to go into?
Actually I have been hired by Pella Windows and Door of New England. They are a New England branch based out of Iowa. I have been hired there to start as soon as I graduate. For the first eight months they are going to be training me and then there is an expectation that I might become outside sales or an architectural rep.
How do you describe yourself in three words?
I am loyal, ambitious and down-to-earth
Any advice for other students here at Wilkes?
Try new things, have a goal in mind and if that goal doesn't go the way you want reevaluate the goal and make a new goal and work towards that goal.
What else do you participate at here in Wilkes University?
I am an E-Mentor here and I love mentoring the incoming freshman here. They are what really is going to keep Wilkes going. I also play the harp in the Wilkes Civic band. Also on Monday, Wednesday and Friday I work in student development as a work study job. Currently I am arranging the internship week which we are calling professional development week. Going to this event is how I ended up getting my job up in Boston. It is a really cool event taking place October 14th-October 18th. We will have everything from a resume session to an etiquette reception. It is really going to be a great event and I am looking forward to seeing everyone there.
Do you encourage freshman to go?
I actually went as a freshman and I met with the CEO of the company and we have stayed in touch and that is how I actually landed this job with the company. Going to this will help build relationships that will lead to future jobs. There is definitely a lot of opportunities out there for Wilkes students.