Women's tennis set to begin new season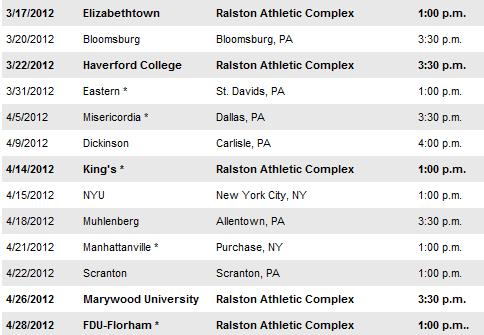 It is that time of year again.  Women's tennis is back at it for the spring season and they have already begun to accomplish great things.
The Colonels look to carry over their success from last year, which saw them win the MAC Conference and gain a NCAA national bid, for only the second time in history.
The team was lead by Coach Chris Leicht for the eighth season, along with senior captains Anna Mitchell and Rebekah Shanaman.
"We're working hard and hopefully good things are going to happen," said Leicht.
There are nine girls on the team, and the top seven consists of all upperclassmen.
"This gives us a lot of good experience and depth," said Leicht. "We really don't have a weakness."
With such a strong line-up, Leicht has added some new competition to the season. The women will be playing some division two schools and they are looking forward to the increased competition that they have coming up.
New competition is not the only excitement that the team has to look forward to. The girls will be going on a week-long spring break trip to Hilton Head Island in South Carolina beginning March 5.
"We get to have team bonding in an atmosphere that isn't typical," said Melanie Nolt, junior accounting major. "It's a chance to relax and enjoy a change of pace."
While in South Carolina the girls will get to play outdoors and also take part in some tournaments. The athletes said the spring break trip is a big contributor to helping the players prepare and train for the season.
Right now the women are practicing four to five days a week indoors, working on conditioning and running.
"After returning from the spring break trip we will definitely be ready for the season to start," said Leicht.
While the team is working hard to get ready for the season, they are also working to improve their double strategies.
"I wouldn't call it a weakness, but it is something we need to work on," said Leicht.
Making improvements to the double strategies will help ensure that the women will win the conference again. Along with that, they are going to use their biggest strength, which Leicht said is their depth and experience.
"We have been dominant in the past and you can expect even more commitment and team unity this season," said junior team member Katrina Lynn.
The team has some exciting matches they are looking forward to, like a competition against NYU at the flushing tennis meadows courts, where the U.S. Open is held.
More locally, they are looking forward to the match-up against Bloomsburg University. The women took a close loss against Bloomsburg last season with a score of 5 to 4, so they are looking for a big win this season.
Women's tennis first home match is against rival Elizabethtown on Saturday, March 17 at the Ralston Athletic Complex.