Bastille is an indie rock and synthpop band fresh out of London. They formed in 2010 and have released one album thus far.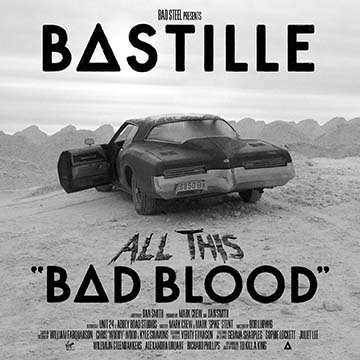 Bad Blood's first track off the record titled "Popmeii" has become a world smash hit. As usual, it has recently been climbing up American charts, because in my opinion we always hear the good stuff last.
When picking up an album to listen to, I try not to hear or read any reviews about it. However, I accidentally skimmed over a foreign review and the words "melancholy" and "average" jumped out in front of me, so I stopped reading that review and just started listening to their debut.
I will say this though: If you're looking for more songs that sound like "Pompeii" on the album, then you might want to listen to something else because you won't find that here.
Bad Blood was released exactly a year ago in the U.K. and debuted at No.3 on the album chart. It did eventually reach No.1 a few times afterward, and has since gone double Platinum with over 600,000 albums sold. Here in the U.S. their debut has reached No.11, and their single "Pompeii" selling over 2 million copies/downloads.
The next song on the album is "Things We Lost In The Fire." It has an awkward string arrangement and typical indie pop echoes and background chants that have a lot of reverb. Anyway, it's a decent song, but nothing to take seriously. The song after that is much better and quickly becoming a favorite of mine.
"Bad Blood" has lyrics that are very relatable with '80s minimal synthpop soaring in the background. "All this bad blood here, won't you let it dry?/ It's been cold for years, won't you let it lie? If we're only ever looking back, we will drive ourselves insane."
"Overjoyed" was released as a single, but shouldn't have. It's such a cheap song, even for album filler standards. "These Streets" and "Weight of Living, Pt. II" are much better.
However, after that the album blows up into a mellow phase of insipid. It is probably the reason they had to make a re-issue of their album by adding thirteen new songs and calling it All This Bad Blood.
It appears to be a trend now with artists such as Ellie Goulding doing it recently. Their newest single titled "Of the Night" from All This Bad Blood has risen to No.2 on the UK Singles chart. It's a remix of 1992's "Rhythm Is a Dancer" by eurodance group Snap! and 1993's "The Rhythm of the Night" by eurodance group Corona.
Bastille will most likely improve on their next album, whenever that will be. For now their song "Pompeii" will rule America for a few more months, and then they'll temporarily become a "one-hit wonder."