Conan Gray's "Jigsaw" met with emotional reception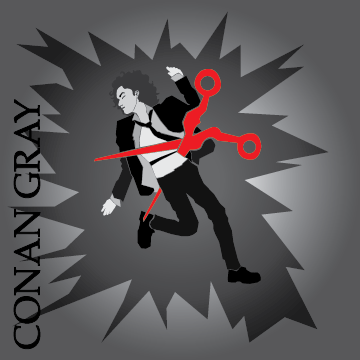 Editor's note: This article contains potentially triggering content.
On Jan. 21, American singer-songwriter Conan Gray released "Jigsaw," the second song rumored to appear on his new album. 
The singer-songwriter is known for his heart aching somber songs and the emotional lyrics that usually tell some sort of love story. So naturally, this caused a lot of discussion online.
Some students shared their own thoughts about his latest release. Sophomore biochemistry major Joshua Dombrowski immediately added the song to a playlist of his on Spotify. 
"My initial reaction was how bold and grim the song was," Dombrowski said. "The song started somber and aching and moved into anger and aggression, as if moving through the emotions or stages of grief."
The tone and the vibe were easily spotted. 
"Just from the first verse it comes off as an emotionally intense song," said junior psychology major Michelle Bazan. 
Gray, best known for his hit single "Heather," posted on several social media platforms expressing his nervousness about the new single. The reasoning behind this was that the song was based on a journal entry written by Gray himself. 
"Jigsaw" shines a light on altering one's personality and appearance in order to fit in and satisfy the one they desire to be with. Gray uses the entry and uses his lyrics to tell the story of how one changed themselves, they are not even accepted at the end. 
In Gray's case, the love he has is not required, even though he did everything to change who he was to the point that he himself could no longer recognize himself. Gray uses a jigsaw puzzle to best describe himself. 
"The jigsaw puzzle plays as a metaphor that as he was completing the puzzle, he continuously altered himself," said Dombrowski. "Now that the puzzle is completed, he doesn't recognize what the puzzle is supposed to look like." 
Some students were able to easily relate to the song just by reading the lyrics of the song. 
"When Gray said 'then I would grab the kitchen scissors and cut myself to slivers for you' [it] had me crying," said P2 pharmacy major Maddy Yeager. "When the song turned angry it felt almost like a realization for Gray or anyone who can relate to the song." 
Gray's common theme is heartbreak. However, this song does not shine on the common theme of heartbreak in the music industry. 
"After analyzing the song it highlights the stages of emotions when dealing with situations like this," said Yeager. "I feel like I read a whole story but in reality, I listened to a four-minute song." 
Dombrowski likes how the song brings out the vulnerable side of Gray. 
"Just because he is a celebrity, he is human as well and experiences the same feelings we all feel," said Dombrowski. "Society and peer pressure mold us sometimes in ways they want us to act." 
Gray will be starting his world tour on March 1 in Dallas, Texas, and wrapping up on Sept. 6 in London with special guests Bulow and MALLRAT. Bulow will appear on the U.S. tour dates and MALLRAT will appear for Gray's Europe dates. 
Tickets for the tour can be found on Live Nations' website www.livenations.com and their mobile app.