Wilkes student teams up with younger brother, local musicians to "social loaf"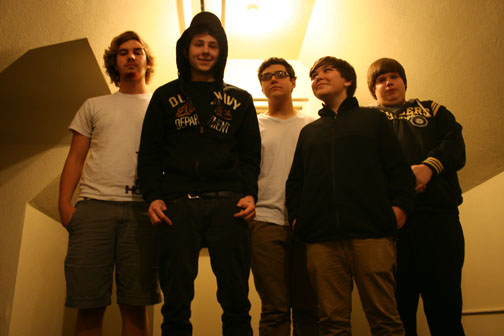 Members of previous Wilkes Barre hardcore bands have recently gotten together to create The Social Loafers, a ferocious five piece melodic hardcore band in vein of Single Mothers and Touché Amore.
The band started after Kevin Adams (guitar) and Mark Ruggere (vocals), previously of The White Collar Ambush, began jamming with Wilkes freshman Derek Jolley (guitar) and Danny Washington (drums), who played in Summer Holds the Earth.
The new group also features a surprising addition on bass: the 14-year-old, five foot tall Dylan Jolley, Derek's younger brother.
The younger Jolley brother has been playing bass for five years, and said he is excited to start playing with an older crowd – though he's no stranger to live shows, having played during SHTE shows and other gigs before that.
"The first time I played on stage I was 11, in Metro (Café Metropolis, Wilkes Barre's now defunct music venue)…by now it's normal to me and I love it," he said. "I'm playing because I can, and its fun. That's what I want to do."
Although some may see Dylan Jolley's presence as a gimmick, the other members quickly debunk this, stating his musicianship outshines even the group's elder members.
"He's an excellent musician…he can just listen and play along by ear," said the older Jolley brother. "Besides, you can't tell how old someone is by the sound they make."
"No one has an age in this band," stated Adams, referring to the question of whether or not a 14-year-old's sometimes immature mindset would get in the way of the music.
According to the members, member's Dylan's maturity has never been a problem.
"He's a lot more mature than all of us put together," Washington said.
Although the Social Loafers are still figuring everything out and working on routinely practicing, they already have material written and ready to be played on their first show, Jan. 11 at the Living Room in Stroudsburg with Sunning and Young at Heart.
Ruggere said the lyrics in particular will be much more emotional, focusing on legitimate problems that people in his life have faced.
"I don't want to be in a band that just writes about girls. I want to write about things that are important…the struggles of everyday life, of other people and how they cope with it," he said.
"Specifically, the lyrics are about my perspective of other people's lives…How I see their life, and how I've seen them grow."
Despite the new material and desire to play as many shows as possible next year, the band doesn't have any plans to release anything soon, apart from a demo after Christmas.
"We're not trying to rush or put out anything this time around," Derek Jolley said. "We just want to play music."
"If it's not perfect by our standards, we won't release it," Ruggere opined in agreement. "We won't set a date unless we're sure well love it."
Readers can stay posted on the Social Loafers at www.Facebook.com/thesocialloafers.