This day back in history… Dr. Seuss passed away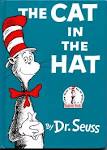 "One fish, two fish, red fish, blue fish." We all know the silly, little phrases and of course, the man who wrote them—Dr. Seuss.
On Sept. 24, 1991, Dr. Seuss died at the age of 87. What is Dr. Seuss's full name, you may ask? Well, it's Theodor Seuss Geisel and he was born in Springfield, Mass. in 1904. His mother used to say rhymes to put little Theodor to sleep and he even credited his mother for his creative abilities.
Many of Seuss' characters and locations were symbolic of his hometown of Springfield like Horton the Elephant wandering streams in the Jungle Nool which parallels Springfield's Forest Park. By the time of his death, Dr. Seuss had completed 44 children stories which have been translated in over 15 languages and sold more than 200 million copies. He also was awarded  two Academy and Emmy awards, a Peabody award and the Pulitzer Prize.