Not all clowns wear make-up: Comedian, 'balloon freak' John Cassidy comes to Wilkes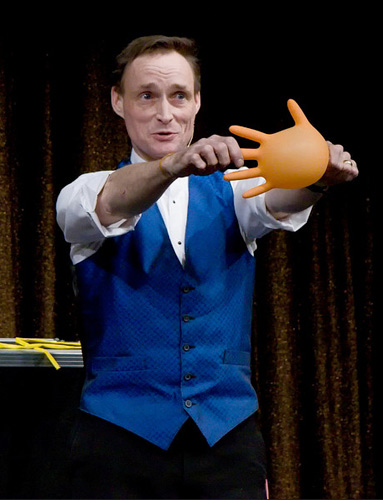 Magic. Humor. Balloons.
John Cassidy combines all these elements into his act. Cassidey will perform at Wilkes University tomorrow, at 7:30 p.m., in the second floor ballroom in the Henry Student Center. This event is being held courtesy of Wilkes University Programming Board.
"I just want people to come, laugh and forget their problems for a few minutes," Cassidey said. "I know that college students have plenty of problems; people expect a lot out of you. I had the most pressure and problems when I was in college. So I like to make people forget about all that for a night and just laugh."
Cassidy has is no stranger to the limelight. There are five Guinness World Records in Cassidy's name showcasing his talents, the most recent using 434 modeling balloons to make a biplane that measured 192 inches wide and 147 inches long on September 25, 2009. Though Cassidy's record was recently broken, his other four still stand, one being a record Cassidy holds for most balloon sculptures completed in one hour. Cassidy's record stands at 747 inflated and twisted balloons.
With those records under his belt, Cassidey has been featured on Martha Stewart Living, the Jerry Lewis MDA Labor Day Telethon, Late Night with Conan O'Brien, CBS' Early Show, NBC's Today Show and Live with Regis and Kelly, among others. He's also performed on Disney Cruise Lines, in the World's Greatest Magic Show, the Magic Castle in Hollywood and at the White House. With such an impressive list of venues, one would think that one of those stood out in Cassidy's mind as a career highlight.
Not so, Cassidy said.
"Some of the best and most rewarding shows have been volunteer work with kids. I do a lot of work for muscular dystrophy and every year we perform at the camps," he explained. "Also, I do shows for blind children. Actually, at a recent show I did this kid got really sad after I gave him a balloon, I asked 'Why are you sad?' and he goes 'I wanted a green balloon.' I said 'Sorry, I'll make you a green balloon,' and the kid said 'I'm blind, it's a joke.'"
To see past shows of John Cassidy's, go to YouTube or his own website, johncassidy.com.