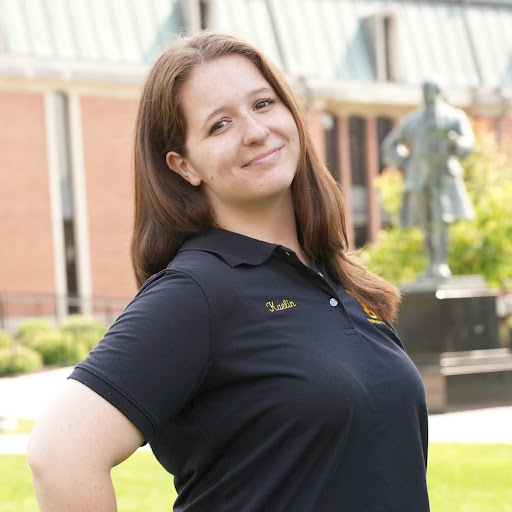 Kaelin Hughes, a senior political science and history honors student, is this week's honors feature.
Hughes also has a minor in policy studies, is the president of HPSC, an honors peer mentor, an honors small group coordinator, and has been making the most of work study opportunities at Wilkes.
Work study jobs are on-campus jobs that get students involved in the inner-workings of different departments. They can range from jobs related to extracurriculars, like working with student athletes in the weight room or shelving music in the Darte Theater, or jobs related to coursework or major, like the ones Hughes has.
Hughes works as a Supplemental Instructor (SI) for students taking Quantitative Reasoning for the Social Science, which is cross listed as PS-265 and SOC-370, depending on the major. is course focuses on teaching students how to collect quantitative data in research projects. Hughes shared that this was a valuable experience, both for them and students enrolled.
"This is my second year helping with the course. I'm glad I can help make the course material more digestible for students who may not be math or computer-oriented with the Statistical Package for the Social Sciences (SPSS) database."
For many social science students, this type of data analysis can be di cult. Hughes holds open meetings weekly that allow students to come and ask for help with the content they are struggling with.
Hughes' second job relates to their history major. Over the summer, she began working at the Harold Cox Archives, located on the third floor of the Farley Library.
The goal of her specific role is "transcribing and inventorying the John Jenkins papers, a collection of 18th and 19th century documents concerning our local history."
Similar to how Hughes' SI job helps with her stay engaged with SPSS database, this role helps engage critical thinking and historical research skills. Unlike the clear outcome of helping students maintain good grades, the goals of this role aren't as well-defined.
"Hopefully, once it's all transcribed, we can process it into different sub-series within the collection," said Hughes.
This work aims to make these historical documents more accessible and better organized for future students to utilize.
For those interested in work study, view job postings online at wilkes.edu/workstudy. It is important to note that some work studies are federally funded, while others are funded by Wilkes University.
In short, some job opportunities may not be available because of Financial Aid eligibility.
Hughes is one of more than 200 honors students on campus. If you're an honors student and want to share your story, please fill out the Google Form found at the end of the weekly Honors Buzz.