Students, faculty and alumni gathered recently in the Farley Library to taste a variety of Polish foods.
The second floor of the library is home to the Polish Room, a room dedicated to Polish heritage and culture that has been in the library since 1950. The room features many Polish artifacts and publications which have been collected by the Polish Room Committee.
This same committee holds the annual Polish food tasting event, in which members of the committee bring homemade Polish foods for members of the community to enjoy.
Many students attended as well, ranging from those who are Polish and come every year, to those who were not and were trying the foods for the first time.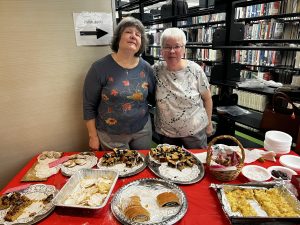 "I'm Polish on my mom's side, but I've never been to one of these before," said Mia Decker, junior history major secondary education. "I loved the potato salad and the deviled eggs were very delicious."
There was a range of savory and sweet foods that everyone enjoyed, as well as sharing an appreciation for Polish culture.
"I wasn't aware of it in the past, but I saw it in the email and was really excited," said Lily Hebda, junior English and secondary education major. "I've never had candied sauerkraut and decided to try it, and it's awesome."
Two members of the committee, Susan Braden and Rose Fritzen spoke about the event as well as the scholarship offered to students of Polish descent.
"It's nice to see everyone's smiling faces, and it's just fun to be here," said Braden.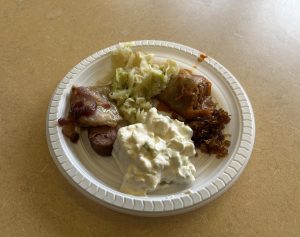 Both Braden and Fritzen participate in the event every year and look forward to it.
"We enjoy being with all the students and faculty together," said Fritzen. Fritzen also spoke about a special scholarship.
"We award the scholarship to three students of Polish descent every year. They have to write an essay, and we award based on those, financial need, and academics. We award the scholarships to the winners in December.
"We get a lot of applications every year."
Students who attend Wilkes and have Polish heritage are invited to apply for the scholarship next year. The criteria is submitting an essay based on their Polish heritage according to the prompt, as well as including financial information and GPA.