Wilkes University announced the recipient of the James Jones First Novel Fellowship. This was done through the Maslow Family Graduate Program in Creative Writing and in collaboration with the James Jones Literary Society.
The prestigious award, established in 1992 to honor the literary legacy of James Jones, recognized outstanding submissions in its latest iteration.
Catherine Carberry of Woodstock, New York, claimed the top spot and a $10,000 prize for her novel titled, "Bitter Tropic." Carberry's work, inspired by the true story of the women leaders of Puerto Rico's independence movement and the subsequent assassination attempt on President Truman, stood out among 637 submissions.
Anna Badkhen, from Philadelphia, Pennsylvania, secured the first runner-up position, earning $3,000 for her novel titled, "The Sound Keeps Coming." Badkhen's work, set against the backdrop of imperial collapse in northwest Russia, explores the complexities of love, loss and memories of violence within a septuagenarian couple and their teenage grand-niece.
Jennifer Deane, from Clifton, New Jersey, claimed the second runner-up position, as well as a $2,000 prize for her novel titled, "The Eleventh Horse." Deane, with a background in social work, visual design and psychology, weaves a tale set amid rural Tuscany's natural beauty and the edge of New York City, exploring the lives of peasant farmers and the challenges they face.
The James Jones First Novel Fellowship, established to celebrate the unblinking honesty, determination and insight exemplified by James Jones, author of acclaimed novels such as "From Here to Eternity," and "The Thin Red Line," has been a beacon for emerging writers since its inception.
Carberry, the first-place winner, boasts a rich literary background with fellowships from the Macdowell Artist Retreat, Hedgebrook Writing Retreat and Sewanee Writers Conference.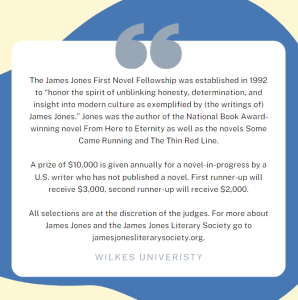 Her fiction has been featured in prestigious journals, including Guernica, The Kenyon Review, Tin House online, North American Review and Harvard Review.
Badkhen, the first runner-up, is a prolific author with seven nonfiction books, including the shortlisted "Bright Unbearable Reality." Her awards, such as the Guggenheim Fellowship and the Barry Lopez Visiting Writer in Ethics and Community Fellowship, reflect her significant contributions to literature.
Deane, the second runner-up, brings a unique blend of expertise with a master's degree in social work and bachelor's degrees in visual design and psychology. Her diverse writing experiences range from freelance newspaper writing to collecting oral histories from Portuguese whaling men.
The James Jones Literary Society, founded in 19992, aims to promote appreciation for James Jones's writings and encourage academic study of his contributions to 20th-century literature. In addition to the James Jones First Novel Fellowship, the society sponsors an essay contest for high school students and the annual James Jones Symposium at Eastern Illinois University.
For more information about the James Jones Literary Society, visit www.jamesjonesliterarysociety.org.