Upperclassmen resident assistants hosted Colonel Cupboard Bingo for students last week, on Sept. 25. Students gathered to play bingo, but also to make donations to the Colonel Cupboard.
Colonel Cupboard is a pantry at the university with food, personal care items and household items for students to take as they need.
In return for donations, students received extra bingo boards to raise their chances of winning. Donations included items such as cereal, rice, shampoo, hand soap and toothbrushes.
"I don't come from a super food secure household, so I will go to the cupboard, but I like to give as much as I can too," said Kayla Bicskei, junior English major.
Everyone is encouraged to take full advantage of the Colonel Cupboard, but as Bicskei mentioned, giving back to the community through donations at events such as Colonel Cupboard Bingo is also very important.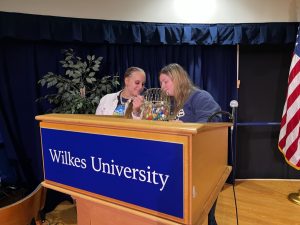 One of the resident assistants who hosted the bingo, Shelby Brazes, senior criminology and psychology major, expressed that she also uses the Colonel Cupboard and loves it.
The prizes included baskets such as a fall basket, a movie night basket, a self-care basket, a Wilkes basket and a sports basket.
Throughout the bingo games there were also rounds of food, nutrition and food pantry related trivia. Each student who answered a trivia question correctly, won another bingo board to play with and increase their chances.
"I'm passionate about bingo, everyone should come, it's awesome," said Bicskei.
Students attended hoping to win prizes and to have fun playing bingo with friends. The evening was eventful, full of laughs and suspenseful "sudden death" rounds.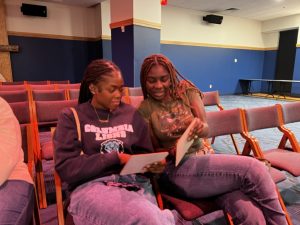 It was a fun night spent with friends, and students also were able to learn information about nutrition and how they can donate to their community.