Thursday nights at Wilkes are dedicated to the Programming Board. Many students are familiar with Thursday night bingo events, which always have a theme. There is always a "back to school" bingo which starts the fall semester off, and a "techno" bingo which rounds out the spring semester.
While bingo is only once a month, the Programming Board hosts events for the entire campus community to enjoy every Thursday night of the school year.
"[Programming Board is] one of the mega councils on campus and we host an event every Thursday night," said Kim Wheeler, junior p1 pharmacy student and president of the Programming Board. "Along with our monthly bingos, annual concert and giveaways, we also host an array of events to engage the campus community. All of our events are planned with the help of our executive and general board."
Programming Board is very flexible with general board members, and encourages them to attend general board meetings even if they're not on the executive board.
"I wish students knew that they could get involved with Programming Board at any point during the school year," said Addie Hazlet, the activities coordinator for student development and advisor for programming board.
"We would not be successful if it were not for our gen board participation so I encourage students to get involved with our club."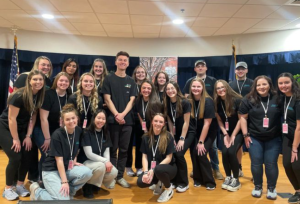 Kylie Jayne, junior nursing major, started off her first semester as a general board member for Programming Board, and is now the analytical chair.
"I got involved with the Programming Board last year because my roommate told me that it was fun and I should join," said Jayne. "I enjoyed the events and thought it would be fun to spend time with her this way."
Other members of the executive board also got their start in Programming Board during their freshman year.
"I got involved with Programming Board my freshman year during club day," said Wheeler. "None of my friends wanted to sign up for the club so I took a leap of faith and decided to join by myself."
While Programming Board is known for bingo nights, they also host a variety of different events, including their fall 2022 "Wild Wild West Night." The night consisted of Mission BBQ, games and a mechanical bull.
"Programming Board is awesome to be a part of but like anything it comes with its challenges," said Jayne. "Thursdays tend to be busy days when we are trying to set things up. The most challenging thing would have to be the last minute changes we need to make when someone goes wrong or does not show up in time. We all work as a team and it gets done together."
Posters of their fall semester event schedule can be found around campus, and on their Instagram @wilkesupub.
To become part of the general board, students can email [email protected] or [email protected].