Wilkes-Barre celebrated its sixth annual Multicultural Parade and Festival earlier this month. It was highlighted as one of the events to attend during Wilkes' Family Day, which was also on the same day.
Students and residents of Wilkes-Barre lined South Main Street and watched the parade put together by multiple groups from throughout the area.
The parade was a huge display of the many different cultures that make up the city. Some of the countries represented included Mexico, Panama, the Dominican Republic, Ireland, India, Ecuador and Jamaica.
The parade also featured a range of music from each group's respective culture and extravagant and colorful costumes representative of different cultures.
Each group representing a different country or region walked the parade while also performing with their culture's dances, and of course throwing candy to those watching.
It was a much admired celebration of the different cultures that make Wilkes-Barre what it is.
"It was cool to see a bunch of the different cultures represented," said Gabriella Amaya, sophomore nursing major. "It was a really great atmosphere downtown and everyone was having a good time."
The high-spirited mood of the parade continued on during the festivities that followed.
More than 30 different vendors from the area set up on the Public Square to continue the celebration. Vendors included, Sammy's Caribbean Grill, Los Antojitos, Tacos don Kiko, Greek Stones Handcrafted Jewelry, Awa's Arts and Crafts, Handel's Homemade Ice Cream and Wilkes University's Sordoni Art Gallery.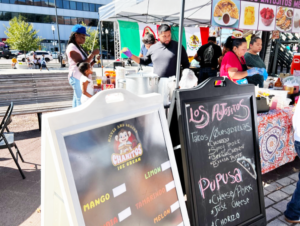 There was an abundance of food to enjoy from pupusas to potato pancakes.
Along with the food and vendors, there were also things like face painting for kids who attended the festival. roughout the festival there was a mix of live music and dances from the different cultures who participated in the parade and festival.
Organizations like North Eastern Pennsylvania (NEPA) Inclusive and Action Together NEPA had booths set up to highlight the importance of a diverse community and how to protect it.
For example, Action Together encouraged those in attendance to take action and vote.
King's College and Luzerne County Community College also participated in the parade and shared their own students' cultures.