Unity, diversity lecture held for MLK Day
The Center for Global Education and Diversity held a lecture observing the close ties between diversity and unity in an event for Martin Luther King Jr. Day.
The lecture entitled, "A Call for National Unity" was held on Jan. 23 due to the university's closure for observance on Monday.
The lecture brought together many students including members from the Wilkes African Cultural Association (WACA) and the Multicultural Student Coalition (MSC) as well as faculty and staff.
Before the lecture began, Dr. Georgia Costales from the Center for Global Education and Diversity and Erica Acosta, the associate director of Diversity Initiatives, spoke about the importance of celebrating the life of Dr. King. They also discussed how the students' participation in the lecture helped to continue Dr. King's ideals.
Shaelyn Briggs and Mmachi Dimoriaku sang the National Anthem and the Black National Anthem before Brianna Rowland, the President of the Multicultural Student Coalition, began the lecture.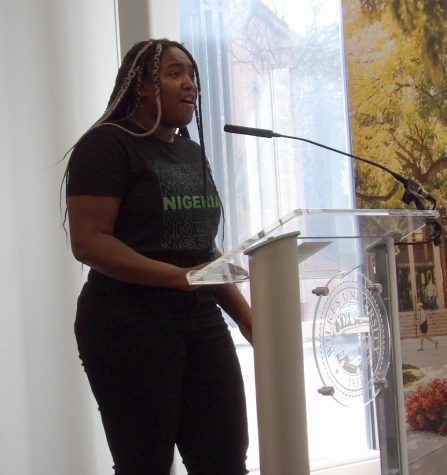 Rowland explained that she started this organization on campus because she understood that she had to change her perspective.
"When problems arise with human beings no matter where they lie on this planet, you should not sit idly by and say, 'Well, it has nothing to do with me so I'll ignore it' or 'I don't care.' Trust me, I am guilty of this same issue."
Her introspection led her to create a community on campus with the goal to "keep the conversation of diversity alive." The goal of this conversation is to bring together people from all different walks of life and to create a family, based on listening and respect.
After Rowland spoke, interim President Dr. Paul Adams spoke to the audience.
Adams recognized that we have steps to take toward unity.
"We applaud creative expressions of words, music, and dance but we're reminded of how far we still have to go to fulfill the dream of Dr. King," he said. "Being present in this space today together is our tangible demonstration to each other that we believe in the ideals set forth by Dr. King."
Costales spoke again this time to introduce Dr. Leon John Jr.,  of East Stroudsburg University, whose dissertation, "Self-Efficacy Among Students of Color at Predominantly White Institutions of Higher Education in Northeastern Pennsylvania," highlights the problems students of color face on campuses in the region.
Dr. John emphasized the celebration of diversity and how this celebration ultimately leads to unity.
He shared his experience with diversity leading to unity while growing up in the Republic of Trinidad and Tobago.
He explained that the nation celebrated a large number of public holidays each year, however, these holidays were not simply a day off from school.
"Imagine for a second, everyone regardless of color, creed, or race celebrating the same holidays together. The love and pride that the citizens of Trinidad and Tobago showed when celebrating one another's culture is infectious," said John.
Rather than a passive goal, "unity is action and we cannot have unity without taking action," according to John.
Rowland earlier had also encouraged students, faculty, and community members to lean into this call to action,
"It's on you to be the change. It's on you to find your own voice not to mimic what your parents or grandparents are telling you how it should be or how it was in the good old days. We need you."
This call "to be the change" does not have to be earth-shattering. Dr. John said, "We do not have to be as rebellious as Dr. King was, but we can be messengers."
Some ways to start include participating in campus organizations and simply listening to those around us.
After Dr. John finished speaking, the lecture was turned back over to the students in attendance. Noella Nkemjeu , junior business administration and marketing major, shared her poem "Unapologetic" which highlights the strength of those who celebrate their diversity in the face of opposition.
When others have attempted to subdue the celebration of her culture she responds in her poem with, "If that makes you feel uncomfortable, I cannot apologize for that. I am unapologetic."
Nkemjeu's poem expressed how creating room for others to celebrate their own identity is as important as celebrating other's diversity.
After Nkemjeu's poem, members of WACA took the floor and danced for those in attendance.
Following the dance, Alex DeSpirito, junior, business administration major, reflected on the performance and said, "I'm happy that we have people at Wilkes that are culturally diverse and I feel very blessed that I'm able to go to a school that has events like this where everybody is welcome."