Sordoni Art Gallery's newest exhibit celebrates quilting
The Sordoni Art Gallery is reopening for the spring semester on Jan. 28.
The new exhibit is titled Material Pulses: Seven Viewpoints, which the art gallery describes as "an exhibition focused on the art of quilt-making," and featuring, "quilts, mixed media and installation works."
The exhibit's subtitle, Seven Viewpoints, reflects that the works curated come from seven different fiber artists. The works themselves were curated by Nancy Crow, a renowned quilting artist and teacher.
Crow talks about the purpose of the curated pieces in the overview of the exhibit, "Material Pulses is the culmination of my mission to bring back the majesty, strength and energy of textile works, particularly large quilts."
Material Pulses will feature quilts as long as 101 inches. Outside of the size of the quilts, the artists selected are known for making use of and experimenting with color, pattern and size.
The exhibit plans to showcase both traditional and experimental quilts and methods used to make such quilts.
Heather Sincavage, Director, of the Sordoni Art Gallery, said, "One goal I have for the Sordoni Gallery is to represent a cross-section of artists working in different mediums. Often the perception of quilts is that it is for an older demographic to do in their spare time however it is an art form alive and well in exciting and challenging ways. It is often underrepresented in museum programming however completely worthy of recognition."
The seven fiber artists whose works are featured in the exhibit are from the United States, the United Kingdom and Canada. The list of artists includes:
Mary Lou Alexander, a former biological anthropologist and teacher, who is now a full-time textile artist known for her hand-dyed quilts; Claire Benn, an author, curator and educator of art textiles from Surrey, UK who focuses on expressing solitude, stillness and silence in her work; Elizabeth Brandt, a former freelance illustrator for the Wall Street Journal, Children's Television Workshop and NPR before she was inspired by Crow's works and became a full-time studio artist; Chris Mauersberger, an American artist who makes "complex mark-making narratives" through paintings, embroidery and installation works; Denise Roberts, a visual artist who views quilts as her creative medium; Jayne Willoughby, known for her work as a coach and in textile, as a mixed media artist and a teacher; and finally, Barb Willis who has been weaving for more than 40 years.
"This exhibition is so different from our last one," said Jessica Morandi, junior digital design and media art major and the Sordoni Art Gallery designer and social media ambassador. "The colors are so vibrant and diverse and the show is light and fun. It has been wonderful designing for this show because it is unlike anything I have designed for before.
"The motion and the color captured in the pieces were so fun to work with, and even more fun to see in person."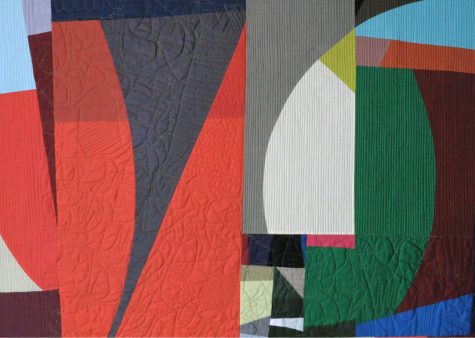 While the exhibits main focus is to, "contribute to the dialogue of contemporary textile arts," the Sordoni Art Gallery is also hosting the first Art in Context of the Spring semester which plans to focus on how many female artists, that work with fiber, are overlooked by curators and museums.
The lecture titled "What Binds Us Tight" is to be held on Jan. 30, at 5 p.m. in the Sordoni Art Gallery. The lecture will be presented by Eva Polizzi who earned her MFA with a focus on fibers and clay.
"Working in both visual arts and contemporary craft and drawing on a background in languages, my work explores recording layers of history," Polizzi said in her bio on the Wilkes website.
"I am looking forward to our Art in Context Lecture with Eva Polizzi this week. Her lecture looks to fill in the gaps that exist in art history where fiber arts should be. In doing so this is also tackling the underrepresentation of women and people of color in art history. Quiltmaking has a rich history that is integrated within women's and African-American history," said Sincavage.
The gallery is also hosting a film screening on Feb. 19. Those interested in learning more and potentially attending should speak with Heather Sincavage.