BACCHUS raises awareness for underage, reckless drinking
On Oct. 22, BACCHUS, Boosting Alcohol Consciousness Concerning the Health of University Students, hosted an alcohol awareness walk that started on the Fenner Quadrangle.
The one-mile walk took students to Kirby Park to raise awareness of the dangers of underage and excessive drinking. Students who participated received a free T-shirt and ate food after returning from the walk.
"I participated in the walk because I missed out on it last year and I want to be apart of a change," said Hannah Simerson, sophomore English and communication studies major.
Many people questioned the purpose of the walk as many students across campus drink.
"Alcohol Awareness walks are far from pointless. Despite students who may choose to consume alcohol, the message and information regarding the dangers of alcohol still remain powerful," Juli Killian, health and wellness coordinator continued, "Binge drinking and underage drinking is extremely dangerous and can cause students a lifetime of harm."
Some of the outcomes from underage drinking and reckless consumption of alcohol include poor health, a negative impact on physical tolerance, addiction and dependence, psychological damage, risky behaviors, and legal, financial, and academic problems.
The walk saw numerous student-athletes in attendance including the women's basketball team and the men's wrestling team.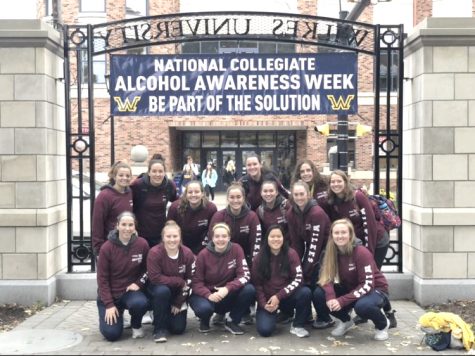 "I think it is important for the campus to get together behind any topic," said Hunter Lowe, an undeclared sophomore. "We are stronger together and united. I think we are a smaller school, athletics has sway in bringing people together."
Lowe continued to talk about the importance of drinking responsibly. "Especially for athletes with weigh-ins, not watching alcohol take-in can set you two or three days behind and can lead to poor performance the next day."
Lowe's statements were further reinforced by Jon Laudenslager, head wrestling coach.
"It will impact performance, they will be sluggish and it will impact their weigh-in. It can certainly have a negative impact on performance and grades. It is not just alcohol," Laudenslager continued, "it is also staying out-late and not getting enough sleep that can have a negative impact too."
According to Killian, communication is their best tool in raising awareness of the dangers of reckless and underage drinking.
BACCHUS and other clubs can hold events that teach students about the harmful effects of alcohol when consumed irresponsibly.  Reaching out to local resources for educational tools and using those tools can have a beneficial impact on college campuses," Killain expressed.
For options in the community, students can turn to the Luzerne/Wyoming Counties Drug and Alcohol Program which provides access to high-quality prevention and education services, as well as effective treatment and case management services. Students can also
An on-campus option for students to learn more about ways they can help prevent alcohol abuse or overindulgence are the Wilkes University Drug and Alcohol Abuse Prevention Program, which can be found online under the student affairs section of the campus website.
The Drug and Alcohol Abuse Prevention Program provides definitions, campus policies, state and federal laws, lists of penalties, prevention methods and the impact and negative effects of alcohol on the body.
Students looking to make a change, or just looking for more information, can contact BACCHUS.
"I would like to thank BACCHUS and its members for a job well done with this year's Alcohol Awareness Walk. I would also like to thank everyone that helped along the way from the students who participated and lent a hand, to Facilities and Public Safety. A special thanks to Northeast Highway Safety and The American Lung Association for their time and presenting during Alcohol Awareness Week," said Killian.