Facilities provides updates on Ralston Field Complex construction
At the Sept. 11 Student Government meeting, the Executive Board's Treasurer, Kevin Long, the updates given by the Operations Committee at their meeting that week. In his update, Long reported the construction crew at Ralston Athletic Complex was no longer on track with the project.
Over the course of the next week, that update changed, and the Ralston project managed to get back on track. Students and faculty wondered exactly what set the project behind on the week of Sept. 11, and what was done to get the project back on track?
"The project is on track with the formal dedication to occur during Homecoming weekend," said Gabrielle D'Amico, the executive director of marketing communications.
"Some electrical work may need to be addressed through mid-October, but the project and timeline are in sync," D'Amico continued. "The complex will be ready for use by Oct. 5. Minor electrical and finishing work, if not wrapped up by that date, will be completed shortly thereafter with no anticipated delays to fall athletic competitions."
While it is not clear what electrical and finishing work needs to be completed on the project, it is clear that it should not interfere with fall athletics.
The Ralston project as a whole contains numerous updates to the complex and field including: a multi-purpose turf field that will be used for men's and women's soccer, men's and women's lacrosse and women's field hockey, a new turf baseball field, as well as a scoreboard, press boxes, spectator areas and stadium lights.
"Things are looking good," Long explained. "It has been said we used to have one of the mediocre athletic facilities, but once these [renovations] are done by hopefully Homecoming, we will have one of the best athletic facilities in the conference."
During the Sept. 18 Student Government meeting, Long gave another report from the Operations Committee.
At the meeting Long stated that the scoreboards were up, the soccer field bleachers were completed, and the baseball bleachers were still in progress. Press boxes were to be added before completion.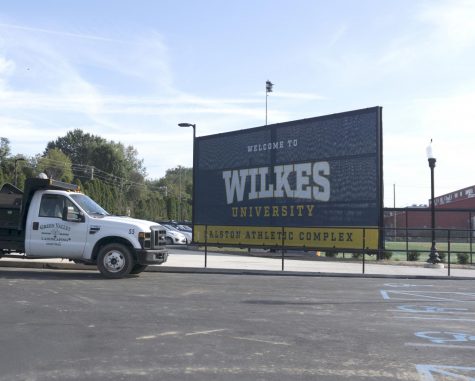 The athletic complex as a whole seems to be going the way those involved expected.
"As with any major construction projects, an ebb and flow is expected. Delays routinely occur because of poor weather, meeting deadlines for materials arriving, shipping and delivery, coordinating work crews, etc," said Adelene Malatesta, athletic director at Wilkes University.
"The workflow requires daily decisions from construction supervisors," Malatesta added.
Malatesta also stated who deserved a large amount of the credit for getting the project back on track for the Homecoming deadline.
"It seems we are on track to meet the Oct. 5 dedication of Bruggeworth Field at Homecoming, thanks to Paul Kaspriskie, our Wilkes facilities project manager. Paul has been on-site coordinating the project from day one and is deserving of much of the credit for the transformation of the entire Ralston Athletic Complex.
"Paul shares the management role with the project supervisor from Clark Companies who also has been on-site daily. Together they have made a tremendous team coordinating a massive project within a very tight timeline."
Iskra also expressed her excitement for athletes to be able to use the new complex once it is complete.
"I would just add that this is an exciting project for athletes, students and fans. As a result of Bob Bruggeworth's generous support, more teams can simultaneously compete and practice at Ralston Athletic Complex, centralizing athletic competitions in one of the finest Division III athletic complexes in the northeast," Iskra added.