Students prepare for finals week with academic success workshop
Jessica Buickus, a learning specialist from Conyngham Hall, spoke to students on April 8, about the rights and wrongs when preparing for finals at the end of the semester.
Buickus broke down her advice for students into multiple sections including information about study plans, how to study actively instead of passively, procrastination and test taking strategies.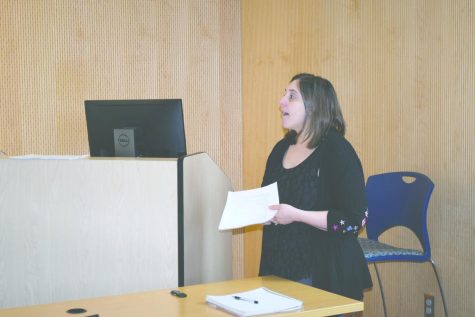 Buickus was able to talk specifically about how to approach the finals of the students in the room. To begin however, she focused on study plans. Buickus addressed that students need to first gather all materials they need to study and then separate the workload in front of them based off what material they know and what they do not know.
Buickus also addressed that if a student does not know how to approach a problem or is struggling they should ask for help from either services at the Conyngham Hall or from their professors during their office hours.
She stressed that students need to break down what they are studying and make sure that they are looking over the material for the most important and most immediate exam. Overloading your study plan with information from every test does not produce a helpful result in the end.
"You are only one person, you only have one brain," Buickus said.
Next she went over what qualifying as active studying addressing that however you study it should not be rereading over material unless you do not understand the material to begin with. If you have a clear grasps of the concept then a student should focus on active studying techniques. Active studying means to do work where you can see if you are making mistakes or that you are succeeding in get information or problems right, like flash cards, self testing and practice questions and study guides.
"Some things I put on flash cards. I personally put things on study guides that I write up. Seeing material again is helpful. Some courses are more vocab focused while others are more concept focused, and you have to study differently for them," said Rose Dietrich, sophomore neuroscience and psychology major.
Next Buickus covered procrastination and stressed that the most important aspect of procrastination is the reason behind it. She said that if a student can figure out why they procrastinate they can stop themselves from doing so. Buickus also stressed that while study students need to stay hydrated and full.
Tanner Torgersen, freshman pharmacy major, said, "When I study I take lots of breaks to not burn myself out. The hardest part about finals week is getting started because you are so close to the end of the semester."
Buickus went over traditional test taking techniques such as reading all instructions, pacing yourself, showing all steps in math problems, using process of elimination and not spending too long on one problem. Other tips she gave were to make sure not to leave blanks, saying that the chance you get partial credit for showing that you understand the question is likely.