Barron's education program comes to the Sidhu School of Business
Barron's is a weekly newspaper and online news site published by Dow Jones & Co.  This weekly editorial focuses on financial news and market developments.
The access to this program has been made possible through a scholarship provided by Mike Hirthler and Jacobi Capital Management.
Through this program, students can gain access to other news editorials, and the magazine itself for free.
"This magazine is really important because it provides insight to the top businesses in America," said Abel Adekola, dean of the Sidhu School of Business.  "There is also an opportunity for students to go to New York City and visit the DOW."
Austin Hackenburg, a senior finance major also commented on the access to the Barron.
"The idea behind Barron is they want to promote financial literacy on college campuses. So, to do this they are partnering with universities and with small businesses because you need a sponsor to get into the business. So, you get access to many journals, like The Wall Street Journal, Market watch and such, all for free," said Hackenberg.
Wilkes University's E.S. Farley Library has access to all of the print media.
"This is important to note because we want to promote financial literacy of all students on campus. We want all majors to be able to be more financially literate and this program provides that to all Wilkes students," said Adekola.
This program also allows select students to become ambassadors of the brand. This includes senior finance majors, Hackenberg, Nicole Harmer, and junior finance and accounting major Alec Levin.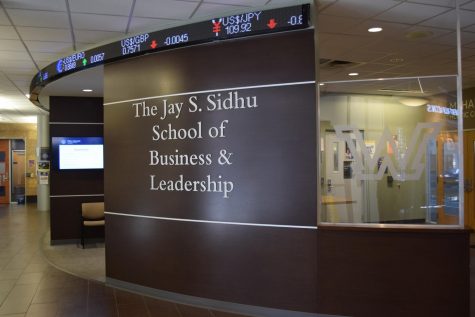 "Within the ambassador program we really just get to represent the company and the brand," said Hackenberg. "We get to make sure that Wilkes students are aware of what is available to them. Especially since this is such a great company and business."
"We also get to promote financial literacy on campus," he added.
"There is so much room for students to get involved in this program," said Levin. "This is a company that is obviously focused on business, but they also have an emphasis on journalism and communication. So the students in that major would be able to get involved as well."
"One thing that is cool is how new this program is. Wilkes was within the top four or five schools to start out with this program," Levin added.
"There are now 25-30 schools participating. All big name schools, like the University of Florida, University of Georgia, and even Cornell. So, it is awesome to see Wilkes be a forerunner for what looks to be such a large and impressive program," said Levin.
When asked about what this brings to the business program, everyone involved had rave reviews.
"This ultimately comes down to (the Barron program) teaching us about the real world. This brings connections and the materials that provide students with the tools to be able to use them in the future," added Levin.
To get a copy of these free materials, stop in and talk to a librarian to get your free access.