Draw the Lines Pennsylvania Holds 'Eat Pizza, Save Democracy'
Last Wednesday, Sept. 19, Chris Satullo, civic engagement leader, project director of Draw the Lines Pennsylvania and former journalist, hosted a presentation as well as several fun activities to raise awareness about gerrymandering in Pennsylvania.
The presentation, entitled "Eat Pizza. Save Democracy," is the first of numerous presentations planned for this fall by Satullo.
Satullo took this opportunity to explain to students, faculty and community in attendance why it is crucial for Pennsylvanians, in particular, to take part in the 'redistricting' competition we currently face.
Gerrymandering is the practice of redrawing congressional districts in order to group all of an opposing party's voters into a few large districts while grouping all of the controlling party voters in many smaller districts.
Every state has a series of congressional districts depending on the states' population–Pennsylvania has 18–, every two years voters in those districts elect a single representative to Congress; every ten years the boundaries may be redrawn to represent the change in population. Since each district gets a single representative regardless of size, many believe there is drastically unequal representation in Congress.
Many believe, including Saluto, that the popular vote would not necessarily matter when gerrymandering occurs. Instead of voters choosing their representatives, representatives end up choosing their voters.
This problem isn't unique to a particular party, as it has been seen that different states are controlled by different parties, he said.
"In 1986, the Supreme Court announced the practice could potentially violate the 14th Amendment on equal protection, however, they could not come to a resolution because they could not agree on what exactly constitutes gerrymandering, or even arriving at an alternative solution," he explained.
"Although in 2015 the popular votes were roughly the same, though Republicans were behind by a small percent, democrats representatives were only a quarter in relation to Republicans."
Draw the Lines understands gerrymandering as standing in the way of true democracy, while helping partisan politicians consolidate power.
"It is very difficult to function as a fully democratic government when these kinds of things are being done deliberately by some of our leaders."  Geraldine Ojukwu, a political science senior, said.
"One can see gerrymandering in practice if we see North Carolina 2012 House elections: the results showed 50.5 percent voting democrat and 48.7 percent voting Republican, yet, only four Democrats were elected as opposed to nine Republicans," Satullo mentioned.
"I think gerrymandering is very bad and discriminatory thing, and that we should proactively fight to see a decrease in gerrymandering," said Christopher Smith, a sophomore majoring in political science, history and international studies.
The event drew attention to how people can fight against gerrymandering. Raising awareness and getting more people involved in what's being done with our state's political system is what people in Draw the Lines, Pennsylvania, are trying to achieve.
Satullo also encouraged the audience to draw a map that reflected our "values and common sense," so they can participate in the first statewide redistricting competition, and will have the chance to be entered in the "Draw the Lines" mapping competition, a competition that runs every semester between now and 2021, and promises the winners a first place prize of $5,000 dollars.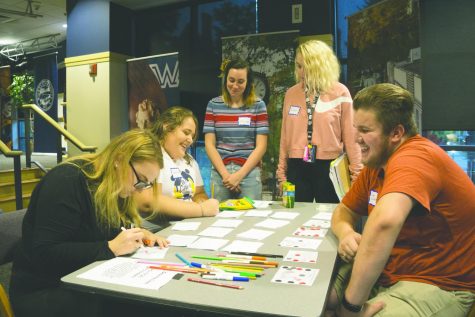 After the presentation, the audience had a chance to solve a jigsaw in the shape of Pennsylvania, get creative with drawing within shapes and solve gerrymandering puzzles, among other activities, along with eating lots of pizza, salad, and soft drinks.
All these games, Satullo affirmed, will help us in understanding the different aspects gerrymandering entail.
Dozens of representatives from Draw the Line are all around Pennsylvania doing the same thing as Chris: going to high schools, colleges, and community centers to spread the word.
On Feb. 15, the Supreme Court ruled that Pennsylvania's congressional map is unconstitutional, and the map will be redrawn in 2021.
"Pennsylvanians have a unique opportunity to put the redistricting process in the hands of the people and end gerrymandering," he said.
"Working together, citizens can learn how they can make a difference by creating a process that produces better maps and a renewed sense of civic engagement among Pennsylvanians."
Draw the Lines PA is a Pennsylvanian education and engagement initiative, led by three regional committees as part of Committee of Seventy. The organization's purpose is to, in a nonpartisan way, be a resource for Pennsylvanians who want to end gerrymandering and help democracy work better.