Profile of a professor: Lisa Reynolds, Integrated Media
Lisa Reynolds has a passion for design, one that shines through thanks to her years of experience in different parts of the field.
Reynolds earned her bachelor of fine arts degree from Kutztown University and then a master of fine arts degree from Marywood University.
"After college I worked at ad agencies, but found I was more interested in an in-house position," Reynolds said. "I worked at Wyoming Seminary not to far from here. I loved being able to help connect students to education. There is no better investment to make than in education."
Wyoming Seminary is a local k-12 prep-school only a few minutes away from Wilkes in Kingston. Moving from her position at Wyoming Seminary to working at Wilkes University was not far nor hard for Reynolds. In fact, it made the most sense. For the past decade, Reynolds worked for Wilkes, but not as a professor.
"I worked at Wilkes for the last 10 years in marketing as the director of creative services; that job was as a staff member. The pace of the Marketing Department was very fast, while the work load here is different.
"Here I am in the thick of it in terms of student interaction. The biggest challenge for me was that I thought I was going to lose my voice the first week," said Reynolds.
Reynolds had help easing herself into the position however thanks to her time spent teaching as an adjunct professor in digital design and media art since 2011. Now she teaches graphic design, design concept and thinking, theory, and practice.
Reynolds' love for design comes from the distinction she makes between designers and artists, as well as the passion she has for the field.
"Designers are artists, I believe that. The difference between fine artists and designers is that fine artists have a message in their art that is their own interpretation based on how they experience something, while designers always have to send a message and tell a story with their work. I think design impacts culture so significantly. Being able to use design to communicate is something I love," she said.
Reynolds' welcome here to Wilkes was one that felt natural, and one that greeted her as a caring and welcoming community. That caring attitude is something that professors here at Wilkes share, and another trait Reynolds possesses.
"I am an enthusiastic person, so I am excited to share with my students the new work coming out in design, and share the reason why I am excited about it," she said. "I am looking forward to seeing where students can and will go. I love hearing from students who have graduated. I want to help guide them and teach them, and I hope that I am jealous of the work that they are creating."
About the Contributor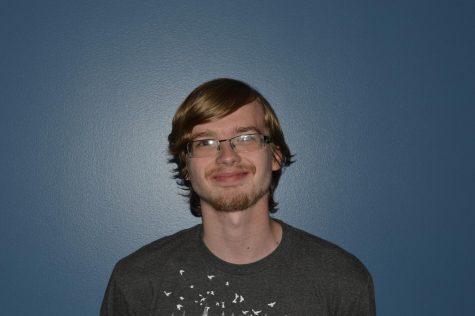 Sean Schmoyer, Asst. News Editor
Sean is a sophomore communication studies major who started as a staff writer in the fall of 2018. Sean currently works as the Assistant News Editor, a...