Wilkes Air Force ROTC visits Arlington National Cemetery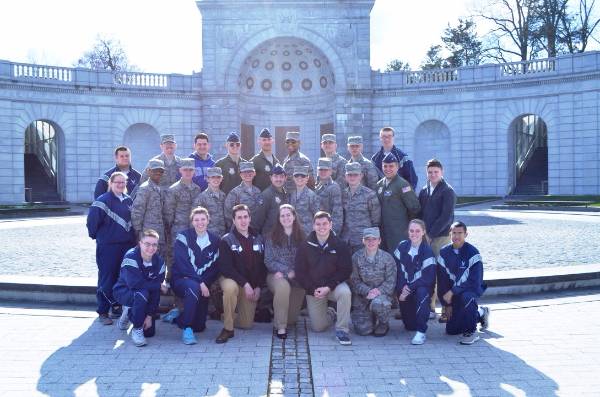 The Wilkes University Air Force ROTC Detachment 752 recently visited the Women's Memorial at Arlington National Cemetery in Washington D.C. for Women's History Month.
The Women in Military Service for America Memorial is the only national memorial honoring women who have served for the United States Armed Forces throughout history.
"It was definitely inspirational to see all the women before us… within the last hundred, even two hundred years and to see what life was like for women in the military," said Lindsay Becker, a freshman criminology major who joined ROTC in the fall.
"It kind of made us realize that we might take our uniform for granted because we didn't realize what women had to go through for us to be able to put [our uniforms] on," said Maura Clarke, a sophomore international relations student who has been a part of the ROTC since her first semester.
"It was just interesting to find out a little more about the average service members in the army or the U.S. Marines. Just to learn about the impact that women have had in the U.S. military, especially over the last century or so," Joshua Eckman added. A freshman business major, Eckman joined ROTC this spring.
The artwork at the memorial was praised by Becker.
"It was very powerful just seeing it as a drawing and seeing that someone would take the time and go out of their way to draw that.
"There was one in particular with a female who was an amputee and it was all a pencil drawing and her prosthetic was coloured in red and blue, so that was very powerful," Becker said.
The memorial also tracked the historical progress of women in the military throughout the years.
"You go from a time when [women] have no involvement in the military… to a time where they start fulfilling roles like nurses at a hospital but progressively do more and more. The military has to evolve with the rest society. I feel like that's a given," Eckman said.
"It definitely put into perspective how much has we've gained in the armed forces over time," Becker added.
Clarke also added that the uniforms from across the years on display were a highlight.
Detachment 752 spent nearly four days in Washington and stayed in Andrews Airforce Base. The group got a tour of the facilities available those on active duty and attended a panel.
"That was interesting because when we're going in we're going to be Second Lieutenant's so hearing their perspectives on what life is like when you go into active duty or your first base assignment. It was definitely helpful to hear their advice and ask them how much of what we're learning in ROTC is going to translate, and even just learning about their career fields was interesting as well," Clarke said.
In Washington, they also toured the Pentagon and the National Oceanic and Atmospheric Administration.
"Everything in there is pretty classified so it was pretty cool to go in there and hear what life might be like if you want to go work in space as a space officer in the Air Force," Clarke said regarding the tour.
They visited a lot of memorials on the trip, not only the The Women in Military Service for America Memorial.
"The memorials put into perspective why we're doing this," Becker said.