Rally for gun control, Parkland victims held in downtown Wilkes-Barre
On Feb. 18, a rally was held on Public  Square in downtown Wilkes-Barre to remember the victims of the Parkland shooting in Florida last week, and to demand action regarding gun control. 
The event was organized by Action Together NEPA, a group dedicated to promoting community action and political advocacy.
Dr. Andrew Wilczak, a sociology professor at Wilkes University and chair of the outreach and education committee for Action Together, emceed the rally. 
"This is something I'm very passionate about. As an  educator, this is something I think about everyday going to work," Wilczak said.
"My wife works in schools in Wilkes-Barre, I have a 4-year-old and another on the way. So this touches my life in a variety of ways."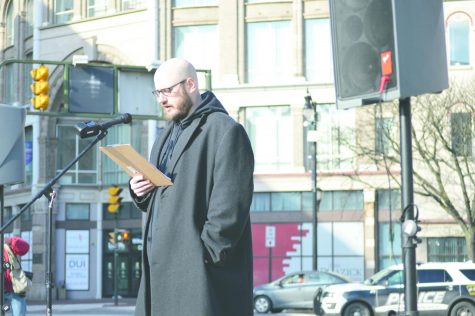 Lorraine Smith, who held a sign that read: "Thoughts & Prayers won't stop the killing."
"I have two daughters, one of which graduated from Wilkes, and two granddaughters. We have to stop this violence. There is so much hatred, it has to end."
Roger Lerner, a rabbi from Temple B'nai B'rith of Kingston, began the rally with a prayer.
Lerner boasted a message of leadership to the children. "I don't think we adults can do it. I don't think our politicians can do it at this point. I don't think they have the moral courage to stand up and talk about the violence of the guns that are in our midst and do something about it. I'm pleading to the children: I think you have to.
"People aren't listening. There's too much money involved, but if you get the children to say it, get them to say it loudly, get them to say it everywhere in this nation, then they'll have to listen."
Wilkes-Barre Police Commander Ron Foy discussed the changing roles of principles, parenting and the use of technology and the impact they have upon children in a controversial speech.
Foy also encouraged the crowd to stand up to potential criminals, saying, "Do not stay silent, if something looks wrong and makes the hairs on the back of your neck stand up there's a reason."
His talk prompted reaction from the crowd.
"Assault rifles make the hairs on the back of my neck stand up – you're blaming the victims, the innocent people," one woman shouted.
Martha Hart delivered her personal story of assault to the crowd. Hart alleged she was threatened with and abused by guns during a relationship.
Hart told the crowd: "Call your representatives today, and every day until they listen, because I want to live in a country where people love their kids more than their guns."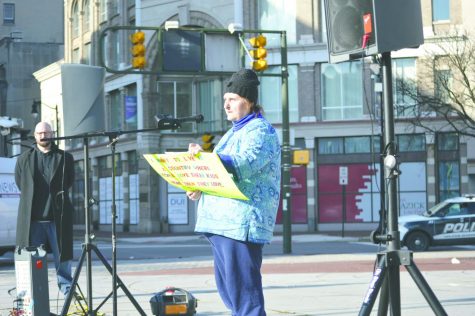 Olanda Carter, mother of a son killed by gun violence in Wilkes-Barre in 2014, spoke to the crowd.
"It's time to call out those we elect to represent us, and it's time for them to stop siding with NRA. Our children are dying."
Chloe Poorman, a 17-year-old student from Wyoming Valley West High School delivered a speech at the rally about how gun control would make her and her friends safer at school.
"We're losing innocent victims because of some law a couple of old dudes made in the 1700s. If this is what makes America great, I can no longer be proud of my country. Gun violence is out of control and my classmates and I shouldn't be nervous to go out and get an education.
"My generation is the generation that has been scared by gun violence the most, and we will be voting a lot sooner than politicians are ready for."
Rod Gerada, of Peach and Justice Center, spoke about the tight alcohol and drug regulations in comparison to gun regulations.
"This young man did not act alone, he had accomplices. His accomplices are the current administration, 52 senators, and anyone that has ever donated even a single dollar to the NRA," Gerada told the crowd.
State representative Eddie Day Pashinski discussed the impact that the billion-dollar industry is having upon the politics of the nation and encouraged people to vote in elections.
"Our democracy is being poisoned by an infusion of, not millions of dollars, but billions of dollars. The dollars that are flowing are taking care of the powerful at the demise of us, regular folks," he said.
Pashinski told the crowd that a forum is being planned to make sure citizens feel safe and have the understanding to vote in elections.
"We're scared and we are angry and we are frightened for our love for our children and our community, and it's because of that love we are going to fight like hell for our kids, for our community and for the future of Northeastern Pennsylvania," Wilczak said. We will fight forever if we have to."