Wilkes alumna receives prestigious Presidential award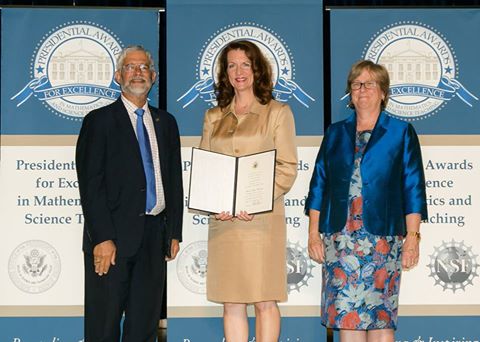 On Sept. 8, President Obama awarded 213 math and science teachers with the prestigious Presidential Award for Excellence in Mathematics and Science Teaching, which represents all U.S. states and territories.
Among the recipients was Dr. Melanie Wiscount, a Wilkes alumna who received her educational leadership Ed.D in 2015.
"The recipients of this award are integral to ensuring our students are equipped with critical thinking and problem-solving skills that are vital to our nation's success," Obama said in a press release. "As the United States continues to lead the way in the innovation that is shaping our future, these excellent teachers are preparing students from all corners of the country with the science, technology, engineering, and mathematics skills that help keep us on the cutting-edge."
According to whitehouse.gov, recipients are chosen based on outstanding performance in teach K-12 science and math, and are selected by a panel of "distinguished scientists, mathematicians and educators following an initial selection process at the state level."
Recipients also receive a $10,000 award from the National Science Foundation and are invited to Washington, D.C., for an awards ceremony.
Wiscount credited her doctor of education degree as integral to her success.
"Thank you to Wilkes University, the Ed.D. program, and all my professors and dissertation chair and committee for preparing me to be who I am for my students," Wiscount said.
Wiscount's dissertation explored the learning impact of Kinect, a responsive, gesture-based companion to microsoft gaming consoles, on the middle-level mathematics classroom.
Dean of Wilkes School of Education, Dr. Rhonda Rabbit is more than proud of the award recipient.
"We are delighted for the deserved recognition of Melanie by President Obama. Melanie is a quality teacher, an authentic teacher, and a teacher leader," Rabbitt said. "Her research involving a mathematics software program developed by a student in conjunction with Microsoft Kinnect highlights the value of authentic learning experiences which capitalize on technology and students' conceptual understanding of mathematics," she added.
"Her work also demonstrates the program value of collaboration and the Wilkes University commitment to innovation and scholarship. Melanie is a strong example of the high quality of students in our doctoral programs. What makes me especially proud is the fact that our doctoral students are drawn to our program because of the focus on impact by integrating theory with practice. Our graduates make a direct impact in their community and globally as a result of their doctoral study and influence in education."
Rabbitt also cited the contribution of Dr. Karim Letwinsky, the chair of Doctorate of Education at Wilkes.
"I am grateful to Dr. Karim Letwinsky for modeling and facilitating this mission."
Wiscount currently works at Ron Brown College Preparatory High School, a new all males-of-color public high school in Washington, D.C. as the educational technology specialist.