'One for one model' is key to success for TOMS
Success and giving are placed on the same level of importance in making decisions in lecture about TOMS Shoes.
The Wilkes chapter of National Society of Leadership and Success showed a live speaker broadcast Feb. 25.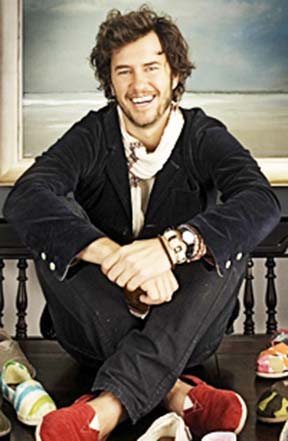 The speaker broadcast titled "The New Social Entrepreneurism" featured Blake Mycoskie, founder of TOMS Shoes. Mycoskie told about his personal journey of building TOMS Company to the successful standing that it is today.
"We have given over ten million shoes to children in need," Mycoskie said.
TOMS success stems from a one for one model Mycoskie developed one morning on vacation in Argentina. While on vacation Mycoskie volunteered with a group of people to give shoes to poverty rid children who could not attend school unless they had close-toe shoes on. He was so inspired from the experience that he developed this idea of giving a pair of shoes to a child in need for every shoe bought.
The company first headquarter was based from Mycoskie's apartment in Los Angeles, Calif.
"We sold 10,000 shoes out of my apartment in one summer," Mycoskie said.
The extreme growth of TOMS was something unexpected but welcomed Mycoskie went on to say. Within months TOMS were becoming so popular that the demand was higher than the supply. Mycoskie shared some major mile-stones in the development of the company.
One huge step was a phone call, which at the time the company still based out of his apartment. It had about three workers with a wireless telephone as the only line of the company.
"I don't know a lot about shoes, but at this point I knew Nordstrom is like the Holy Grail," Mycoskie said.
From that point TOMS grew larger, but today Nordstrom is still TOMS' largest buyer.
In relation to the growth Mycoskie said, "I had to put in everything I had because this could be so much bigger then some children in Argentina."
Decisions that life has us make everyday could change the world. Throughout the lecture Mycoskie reinforced that main point. To become more interactive he asked to audience watching to text the answer of this question:
"Would you have made TOMS a non-profit or for-profit company?"
That was a question Mycoskie asked himself and chosen the latter. He explained that by having TOMS a for-profit company, the dependence on donors decreases. He went on further to say that he never wanted to have to tell a child that he could not give them shoes because the donors found another respectable fund to give to. Having TOMS as a for-profit and giving away the profit in the form of shoes to children was the key to having a stainable giving.
"If we focused on giving and allowing our customers to be a part of our story and then it will become their story," Mycoskie said about the success. "Then everything else will take care of itself."
TOMS has also stretched into the sunglass market. Still using the one for one model, for every pair of sunglasses sold sales go to help eyesight of children around the world. These children would receive the eye attention that they need.
At the end of the lecture there was a question and answer session. Mycoskie was asked where the name TOMS for his company came from.
"That's an easy one. If we sell a pair of shoes today, then we will give a pair tomorrow, but I couldn't fit tomorrow on the tag so I shortened it to TOMS."
Bring the lecture to a close, Mycoskie ended with the encouragement of if you have an idea to pursue it and that only one decision could change the world.