Creative Colonel of the Week: Lily Nguyen
Kylie Dillon, Life, Arts and Entertainment Editor
January 30, 2020
When you enjoy something, you can always find a way to incorporate it into the things you do every day. For this week's creative colonel, Lily Nguyen finds a way to bring her artistic talents to spice up her more strict job.
Nguyen, a p3 pharmacy student is the crafty Colonel many of us wish we could be. Mainly, Nguyen enjoys pencil drawings but has also dabbled in other types of art including watercolors, acrylic paints and oil paintings.
Her artistic journey started when she, as a young child, watched her two older sisters express themselves through several art forms.
"I was inspired by them. And I've been drawing since I could pick up a pencil or a crayon. I actually just recently found a book I had of drawings I did from fourth grade," said Nguyen.
As she got older and had less free time, Nguyen's artistic bubble only grew bigger. She started dabbling in digital art, which she completely self-taught, but she prefers to stick with pencil drawings. She says digital art is very versatile and that it allows the artist to make art look however they want it to.
Nguyen stated that she enjoys drawing pictures of more realistic images like people, animals and flowers. When it comes to pulling inspiration for drawings, Nguyen prefers to bring her own style to her art pieces.
"Usually when I draw I don't really have a reference or person in mind. I just kind of draw different features that I think are appealing," said Nguyen.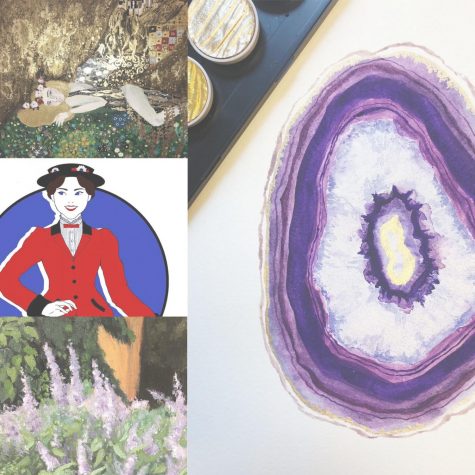 Nguyen noted that as she has gotten older, her time to sit down and draw has become very limited, specifically since taking on different responsibilities on campus like being a resident assistant.
However, even in her busy schedule, Nguyen finds ways to make her job a little more colorful with her artistic capabilities. In her role as a resident assistant, Nguyen is tasked with making bulletin boards, door decorations and other hall decorations or posters.
Putting up decorations and meaningful boards are a way to make the residence hall to feel homier, and for Nguyen it allows her to show off her crafty creations.
"I enjoy originality, and the residents like to see effort put into things. I can utilize my talents in a way that would spread happiness or cheer someone up because they know someone actually cares for them."
Not only does she bring the art to her position in residence life, but she also manages to make her studies in pharmacy feel artsy as well.
"I use my talents in my field in pharmacy, even though its completely different parts of the brain, any time there is informational sheets for patients that need to be made I know how to make it appealing," added Nguyen. "Even though I'm not studying art I can still apply it to my patients and help them understand their medications and help their well-being."
Creating art for many different things in your life, you can quickly become your own worst critic. For Nguyen, the more time spent working on a piece, the more time she could potentially spend noticing errors that others might even find beautiful. She found it hard to accept imperfections in her works, but the more she worked the more her mindset changed.
"My philosophy now when it comes to art is it doesn't have to be perfect," added Nguyen. "If there is a mistake and that is fine. I've learned to finish something and then move on to the next project."