"The Grill Master" is a dear friend to many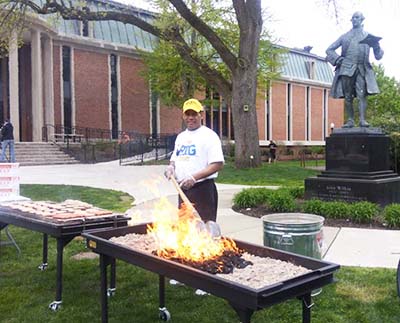 Amanda Bialek, Life, Arts & Entertainment Assist. Editor
April 9, 2017
Tony Wallace, "The Grill Guy" is known for greeting everyone with his infectious smile and genuine care across the Wilkes University campus. Whether he is preparing students a panini in the dining hall or volunteering his time at Colonel sporting events, Wallace is dedicated to his job at Aramark and being involved with the students.
Wallace is originally from Atlantic City, New Jersey. He has been in the food and beverage business for 45 years. Wallace has worked at unique places such as Planet Hollywood, Miss America Pageants, The Playboy Club, Trump Plaza Hotel and Casino for 15 years and The Woodlands Inn for almost eight years.
He came to Wilkes-Barre about 20 years ago because he enjoyed the laid-back atmosphere versus the hustle and bustle of the casino.
Wallace said his personal hero is his mother because she raised him to be the man he is today. "She instilled in us that work is very important, so I haven't missed a day of work in the last five years," Wallace said.  
He currently works as the Deli Master in the Wilkes Dining Hall as well as mans the grill for special events on campus. He enjoys making different sandwiches and paninis everyday because it gives him the opportunity to be more personal and talk one-on-one with students and faculty.
"I am always curious to see the sandwich masterpieces he creates on a daily basis," Dylan Fox, pharmacy major said. "He always has a smile on his face and goes the extra mile to get to know the students."
Wallace is an asset to the Wilkes Dining Service because he is always willing to get anyone what they would like to eat without hesitation. He is a happy-go-lucky guy who believes that everyday should be a good day at work.
"We love having Tony man the grill and serve the students at our semi-annual English Department picnics," Debra Archavage, office assistant of the English department said. "The students and faculty enjoyed having him join our event every year, and we specifically ask for him to be our grill master."
"Tony is more than just "The Grill Guy," Bryan Bilbao, psychology major said. "He's like my dad away from home. Tony has that upbeat, comical and positive vibe whenever you talk to him."
Every year, Wallace dedicates his time to helping with various events on campus such as the Big Event, Casino Night, The Color Wars, Sports Smash, Club Day, Orientation and Homecoming.
"At Sports Smash, he cooked nearly 400 hot dogs and hamburgers without burning a single one," Cody Morcom, pharmacy major said. "He is truly a master of the craft."
When he is not operating the grill or making sandwiches, Wallace can be found attending Wilkes events where he volunteers and takes pictures of students for Facebook.
"Tony is extremely dedicated to helping out our student/athletes in every way he can," Joseph Czopek, men's and women's volleyball head coach said. "He is friends with so many students and knows them all by name." 
After learning that the Women's Volleyball team was trying to raise money for their Puerto Rico trip in Fall 2017, Wallace came to my office to discuss opening a concession stand in the Marts gym during the home volleyball and basketball games Czopek said.
Wallace unselfishly gives up his personal time to help with the concession stand working almost every game.
"He makes our campus more vibrant and sociable," Bilbao said. "I am ever so grateful he came into our lives and hope he can stick around for a lot longer."