Showcasing a wide range of talent from Kings and Wilkes students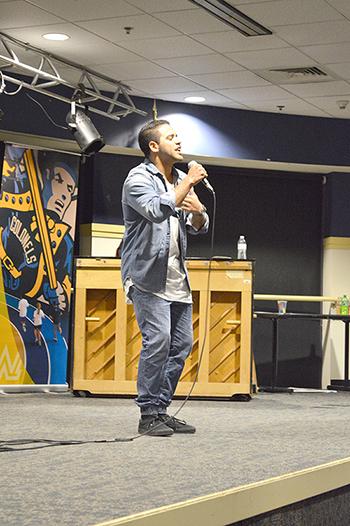 Lights, camera, action!
On April 7, the MSC hosted the annual Wilkes-Kings Talent Show. The Multicultural Student Coalition group celebrates the diversity that is brought to Wilkes University and the community of Wilkes-Barre.
The interesting aspect of this year's talent show was that King's College student performers were pinned against the Wilkes University student performers.
During the event, many of the acts ranged from singing and dancing, to baton twirling and magic.
Raffle prizes were offered to attendees. Specific performances helped the Wilkes-Kings judge panel narrow down the winners of the MSC 4th Annual Talent Show.
Nicole Boyce, Kings, performed Adele's "Someone Like You" which landed her third place. Jasleen Kaur, Kings, performed a classic-modern mix Bollywood dance which awarded her second place.
The first place winners claimed their title by performing a series of dances to a song mashup.
The group included Wilkes student's Shamiah Baker, Kala Walker, Nia Williams, Michael Carberry and Nshimirimana Zawadi.
Along with the amazing acts performed on that night, a freestyle rap ended in a successful proposal with two of our own Wilkes University students. Corey Bullock and Emily Grullon.
The Multicultural Student Coalition holds activities through-out the year to help motivate intercultural understanding.