Expression through physical appearance: Misconceptions of body ink in today's professional world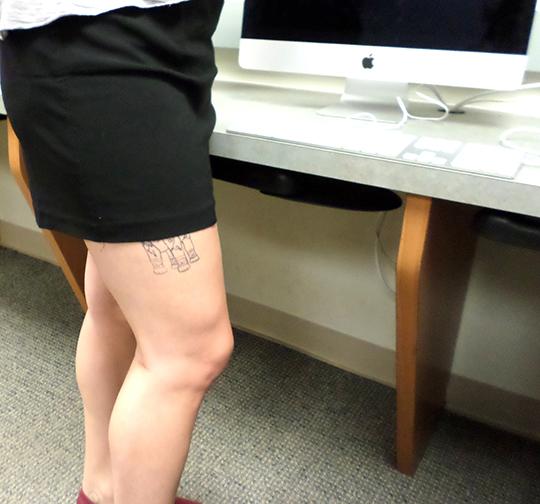 In this series, Austin Ely will explore different topics about expressing one's self through a physical form of body art.
What do we see when looking at another person?
Of course we see their face, their eyes, their hair, their attire, their expression and even their skin. The amount of clothes a person wears limits the amount of skin they show.
In professional settings, people who have body art such as tattoos and piercings have been and may continuously be generalized.
However, according to an article on Forbes entitled, Tattoos No Longer A Kiss of Death in the Workplace, the idea that a person is hired for the experience and not their appearance is becoming more prominent in corporate America.
Unfortunately for many students, especially those on the verge of graduating who have tattoos that are in plain view, there are misconceptions in which our society has established that causes businesses, leaders and employers to view tattoos and body art in a negative light.
When used appropriately, body art in general allows people to gain insight and connect with those around them, whether they have some body art or not.
However, some misconceptions that stem from body art forms, specifically tattoos, are that people with tattoos cannot find professional jobs, people with tattoos are unable to be professional and even that people with tattoos are of lower intelligence.
According to an article posted by The New York Times called Keeping Their Art to Themselves and according to a survey done by the Center for Professional Excellence in York College of Pennsylvania that showed 61 percent of human-resource managers saying that having a tattoo would hurt an applicant's chances.
With that being said, according to a Pew Research study called Millennials: Confident, Connected, Open to Change, done in 2010, 23 percent of Americans have a tattoo and 40 percent of millennials have a tattoo.
This means that despite the fact that some corporate leaders and managers are beginning to look past the tattoos, treating them as forms of expression and hiring based on experience, the misconceptions and judgments are still things those with ink must worry about.
One must also consider the profession they are going to be seeking a job in.
Jeffrey Ochs is a sophomore undeclared science major, with the goal of finding a career in the health industry. If Jeff wore a short sleeve shirt part of his tattoo is visible.
"I feel like some positions in the professional world are patient or customer oriented." Jeff elaborated by saying, "Some businesses simply want their customers or patients to see 'clean' and professional looking employees."
He uses the word "clean" in a sense that he thinks some of the public still considers tattoos connected to some sort of criminal  or taboo activity.
Within the coming years as more young adults are seen getting some kind of body modification the amount of acceptance can only increase.
Employers will or have already started to realize that professional and skillful people are a product of experience and knowledge and that something like tattoos do not dictate a person's worth as a professional in their field.