Game show in store: Needs contestants, prizes, questions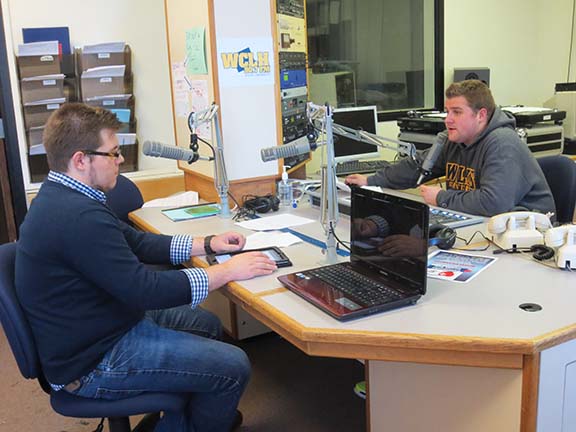 This Valentine's Day, WCLH's 2Dudes1 Broadcast will offer listeners a different kind of dating game. In fact, you could probably say this romance show is almost like a game.
On Valentine's Day, hosts Tom Bedford and Kris Carter will have three boys and one girl on-air to play a version of "The Dating Game." The show will consist of the hosts asking the boys "random" questions with the girl being able to hear the boys' responses through headphones. Based on the boys' responses, the girl will pick a "date."
"It's just for fun, we're not going to bash anybody; we're just going to have a good time," Carter said.
The only qualification to appear on the show is participants have to actually be single. They will even use questions the girl comes up with along with their own made-up questions. They intend for participants to have fun and not take the game too seriously.
"It's going to be for fun, everyone's going to love it," Carter said. "It's not like people are going to find true love on Wilkes radio."
There will even be free movie tickets added to the game. Carter and Bedford are hoping the show will generate more listeners to their broadcast, which plays up-and-coming artists of a variety of genres.
"We're hoping the people who appear on air we're hoping they get the word out to their friends and then people will listen to that show and then hopefully tune in for the shows week in and week out," Carter said.
They said they are still looking for a girl and one more boy to make the game work, adding that there are no formal qualifications other than being single to appear on-air.
"There's basically no rules; you just need to get out there," Carter said.
Anyone interested in participating can contact Bedford and Carter at [email protected] and [email protected] The show will air from 1:15 to 3:15p.m. on Valentine's Day.