Downtown bar breaks on through to The Other Side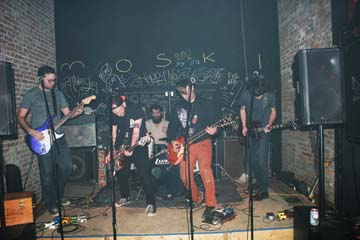 Through the doors of Bart & Urby's on Main St., past the bar bustling with locals and through the cigarette smoke of heated patio, one will find a room new to the building.
The left wall, inlaid with old-fashioned brick, houses a simple bar, backlit by candles that cast a shadow on the bartender and customers, nodding along to the music while sipping drinks.
Opposite and perpendicular, the walls are made of black sheet-rock, decorated with chalk graffiti. A glance reveals signatures of local bands, employees visually portraying inside jokes and doodles of robots.
The phrase "your butt" pops in a bright white against the dark walls. The entire image glows a dim ruby from the overhead lights casting on the walls.
From the room's center, Those Clever Foxes take the stage — pulsating their brand of indie rock from the wooden platform as a fog machine exhales below, contrasting with the lights to make an eerie visual.
This is the Other Side, the brand new music venue in Wilkes-Barre.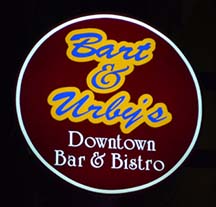 Although Bart & Urby's used to host bands on occasion, the new venue opening means that there will be live music every weekend — something familiar to owner Brian Urbanas, who used to host shows in the basement of his parents' house as a teenager.
"I always believed we needed to diversify our place, in the sense that you can't just depend on one type of customer," Urbanas said when questioned about his motives for the new addition. "And we felt there was a need for a place that does all original music."
"It was always Brian's vision to have a place like this," booker/sound and light operator 'Stosh' Marchak said.
"(Opening the venue) wasn't just wanting another business…the owner appreciated the scene that was here. That was the whole point, to open up this place to try to revive the scene," Marchak continued.
"We're all about original music so we felt like this was a bar for that crowd. There's not enough of those bars anymore….there's plenty of places for cover bands to play. The true artists are ones writing their own music, and that's what I want to see."
With live music, drinks, and a late night dining menu (including some award-winning wing sauces), The Other Side is already promising a lot to do for an evening out in Wilkes-Barre — not to mention the owner is talking about doing an expansion and offering all-ages matinee shows in the upcoming months.
Those who have attended and been involved in shows so far are praising the new venue.
"It is refreshing to see a place like The Other Side," Donnie Kirchner, who plays in Final Descent and Those Clever Foxes, said.
"It's such a cool place, that is very much an audience-oriented spot. The entire staff there are so unbelievably nice and accommodating."
To learn more about Bart & Urby's and The Other Side, readers can go to http://www.bartandurby.com/.