Artist Spotlight: Israel Rodriguez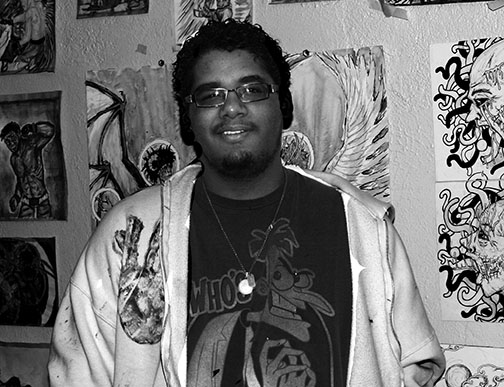 Israel Rodriguez is a freshman biology major with an art minor. Originally from Centreville, Va., the young artist has already had his art displayed at an art show in his hometown, as well as had one drawing used for the cover of Derek Jolley's acoustic album.
What kind(s) of art do you do? Is there a focus on one kind in particular?
I have been learning too many different types of media to see what I like the most. However, I do tend to stick to 2D. My most used method would have to be drawing using both pencil and pen. For color pieces, I mostly use watercolor to fill in the space. I also have been experimenting with acrylic painting and I am now self-teaching and discovering digital graphic design. My art usually focuses on character designs, fighters and fighting scenes, and many of my dreams, or visualizations of personal thoughts and ideas.
How old were you when you first started or realized you really enjoyed art?
I first discovered I liked art in eighth grade. In elementary school my teacher never gave me enough freedom to explore art the way I wanted to.  I would draw here and there, in private. However, in eighth grade I had a teacher who actually taught me and gave me enough freedom to explore my own style and techniques. Then in high school I fostered my joy for art into a passion by taking higher level classes like AP studio art and AP art history.
Where do you draw inspiration from?
I kind of have a disorganized brain so trying to understand it, even for me, can be very difficult and confusing. So when I draw, I then get a visual of what's inside my head. I also do it from my own curiosity and the want to learn and improve on what I do.
Who would you compare your work to?
I would have to compare my art to the art of Otto Dix. He was a German artist that fought on the losing side of WWI and WWII. This was because he was one of the first artists that I felt connected to.
What's the piece you're most proud of?
I'm most proud of a piece called "To Sustain a Tree Without Leaves." It actually is one big piece, five by six feet, that is made of 16 smaller pieces. I'm proud of this piece because it so long to make – from December to April. Also, I enjoyed how the pieces all came together toward the end and it allowed me to challenge my intellect and creativity.
What does being an artist mean to you?
For me, being an artist is being able to project my ideas into a visual medium and not giving a fuck what other people think. Being an artist is more internal than external: I believe that no other person can label me as an artist. The term can only be bestowed by oneself when they feel they are comfortable with visually expressing themselves.
Do you plan on doing anything with art after college?
After college I plan to continue to do art as a hobby. However, I was also thinking of becoming a tattoo artist or possibly working in graphic design. That all depends on how the future goes.
To learn more about Israel and his art, readers can contact him at [email protected]