Punk's a threat — Wilkes-Barre trio fight dying scene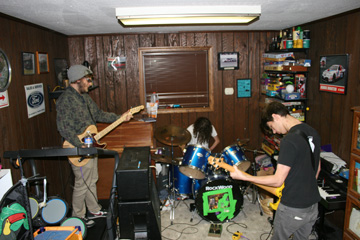 Although the Wyoming Valley music scene has dwindled in recent years due to the main venues closing down, it was once a place bustling with local talent, where kids could watch their friends play shows every week while making new ones.
As local promoters and bookers continued their hunt for a new venue, they left the job of keeping the scene alive to the few area bands and kids willing to fight for it.
Black Diamond, named after the bridge connecting Wilkes-Barre and Kingston, epitomize the determination to keep the area's scene alive.
Black Diamond formed in March 2013 when, after pancreatitis left him hospital-bound for two weeks, vocalist / guitarist Cody Novitski  asked Ralph Castner to start a band with him. Originally recording a three song demo with Castner on drums, the duo added drummer Ron May, shifting Castner to bass and finalizing their lineup that spring.
The trio, influenced by Bleach-era Nirvana, Sonic Youth and Dinosaur Jr., entered the Wilkes Barre music scene at a time when there wasn't much to enter. Without venues to play in locally, the self-described "Sad, Noisy Punk" band teamed up with locals who cared enough to see local talent thrive.
"I think now that there's no venue kids try more," Castner said. "It's not as easy for shows to go down now…but kids that weren't associated (with the scene) are starting to book."
"We've played behind coffee shops and in practice spaces, in bars illegally…" Novitski said. "I feel it brings people together more because everyone who actually cares and wants to do something with it, and wants to get the scene back on its feet…they're all going towards one purpose."
Black Diamond signed to Time Table Records last month, who released their demo on cassette. The band plans to enter the studio to record new music for 2014, but for now are focusing on preparing for their first week-long tour in mid-November.
The band said their recent small-time success, paired with the success of other local bands in recent years, is enough to be optimistic about.
"Being from this area, people tend to care about the bands more, because of (the scene's) reputation," Castner said.
"Seeing all these bands just being normal people from our area getting big is hopeful,"
Novitski agreed.
"And we represent Wilkes-Barre well," he continued with a laugh. "Wilkes-Barre is noisy and self-destructive, and we're noisy and self-destructive."
Black Diamond's music is available for free download at www.blackdiamondpa.bandcamp.com, and listeners can hear exlusive live tracks at www.timetablerecords.bandcamp.com.