New Jersey indie duo signed to Wilkes-Barre based record label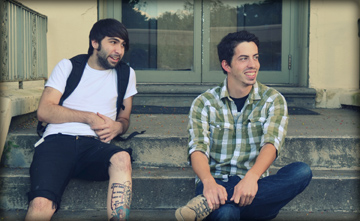 It's always darkest before the dawn. Good things fall apart so better things can fall together. The clichés are endless, and although trite, nothing better describes Phillipsburg, New Jersey's mountaineer. The two-piece indie outfit came together during Oct. 2012, when Hurricane Sandy's havoc prompted guitarist / vocalist Billy Scarbrough to move in with long-time friend-turned-drummer Brandon Potts.
"The power at my house went out…so I hit up Brandon to see what he was doing," Scarbrough says. "I was kind of at odds with my parents at the time. A couple weeks went by…I just never really left."
The living situation proved to be highly beneficial to both Scarbrough and Potts, the latter of whom recalls being in a dark place in his life at the time.
"I was really upset, and very angry," he says. "Billy moving in really helped me get happy. The band [starting] really made me get happy."
Having recently departed from their previous bands, the new roommates quickly got back to work writing music in the basement of Potts's house, channeling their new positivity into creative energy. Equipped with new songs and driven by their optimism, mountaineer. began booking shows in New Jersey and Northeast Pennsylvania. The duo's blend of indie, folk and punk quickly captured the attention of local show-goers, including the head of Time Table Collective, a DIY-style record label based out of Wilkes-Barre – a relationship, mountaineer. explains, that neither member could have anticipated.
"We played a show, and I can remember pushing our gear out of [the venue], and this nerdy-looking kid comes up to me and says 'Hey man, your band is really sweet…I want to talk to you about putting you on Time Table Records,'" Potts recollects with a laugh. "And I was like 'Excuse me?'…it was like, in a matter of thirty seconds, 'Okay, I guess my band is good.'… from that day on, Time Table has had Mountaineer's back."
Time Table (owned and operated by Wilkes freshman Derek Jolley) released mountaineer.'s debut EP "all good things" in June; the aptly-titled album, which Scarbrough says is "all about good vibes," is currently on its second press.
"I love mountaineer.," says Jolley in a separate interview. "[The EP] was released to huge avail, it's been really successful. They're excellent guys and working with them is my pleasure."
"Just to see how many people bought the CD the day it was released was phenomenal," notes Potts. "It's definitely a new feeling, having a little success."
"I like that people are screaming along," Scarbrough agrees. "People screaming [our] lyrics, that's success to me."
mountaineer. have plans to tour and release a full-length this winter. You can listen to the all good things EP at www.timetablerecords.bandcamp.com/album/all-good-things.