Sujata Nair-Mulloth sets emotions alight with Indian 'fire dance'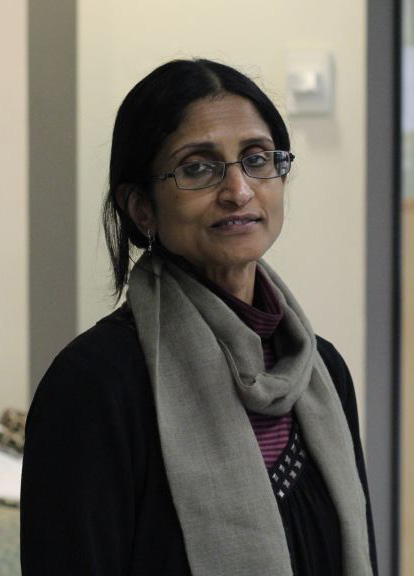 It's known as a "fire dance."
With its smooth, eloquent style, the style of Indian dance called Bharata Natuam focuses on fluid body movements in steps and hand gestures. The graceful flow and strength behind each gesture expresses the personification of fire throughout the body.
This semester, Wilkes University is offering classes in Bharata Natuam for both beginner-level and experienced dancers.
"The classical Indian dance is most like American ballet," Sujata Nair-Mulloth, the instructor of the course, said. "It's a whole new set of movement vocabulary that could be used in anything you do."
Nair-Mulloth is not only an instructor; she is also a choreographer and performer herself. The movement vocabulary she teaches in the class not only allows further flexibility in dance, but also can be utilized for the improvement of everyday living.
Being comfortable with the body's physical abilities brings an inner comfort psychologically, Nair-Mulloth said.
The entire class consists of nine dances, all performed to fulfill one of the nine categories of Bharata Natyam inspired by emotions and moods like love, wonder and tranquility.
By challenging the body to learn the intricate steps, movements and gestures, students in the class learn about the style and rhythmic base of classical Indian dance combinations.
"You really need to be concentrated and focused to get the repetition and movements," Leah Thomas said.
Fifteen-year-old Thomas is a student a Scranton Prepatory School taking the beginner Indian dance course at Wilkes for dual enrollment. Dual enrollment allows students to obtain a head start by receiving college credit for taking university courses while still in high school.
Thomas said that, although the class is challenging, she has already been able to apply some of the skills and lessons she's learned to her personal life outside the class.
"The class helped me learn to focus more in school," she said, offering an example.
In addition to the physical training and discipline the class offers, there is also an element of multicultural education to the course. Bharata Natuam originated in South India, where inspiration was taken from sculptures from ancient temples.
The name Bharata is a combination of "Bha" for "Bhavam," representing facial expression, "Ra" for "Ragam," meaning melody and "Ta" for "Talem," expressing beat pattern. The second part of the name, "Natyam," means dance.
"I learned more about my culture," Thomas, who is of Indian descent herself, said. "It was really nice to explore different ethnicities."