Mesa blog: Plenty to explore between classes
As it seems right now, according to my account, the SiMesa program is just a semester of adventuring. Surprisingly enough, the students in Mesa still have classes to attend, which at times highly enjoyable.
Our one class is taught by an adjunct that is currently the quality site manager at Boeing. His class is in quality management. Being once a week at night for three hours makes it long, but the class is anything but boring. The class is interactive and breaks into groups on a regular basis.
It's not just the teaching style though; the material is also part of what makes it enjoyable. Understanding how a business instills quality in its products has more details than I ever imagined. It's not a super technical class, but not all the most important classes are.
The rest of our classes are taught on a weekender schedule, where a few of the weekends during the semester have a hefty class load. Even in the shiny new school building, an eight-hour class takes a significant toll on my coffee supply.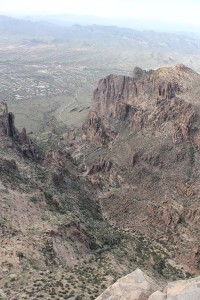 The overly competitive foosball breaks really help break the monotony. Also, the school is right near my new favorite Mexican restaurant, so lunch breaks are an easy choice. The weekend classes are going well though, and they haven't taken too much from our adventuring.
We still manage to squeeze in something fun, whether it be a boat ride, going to downtown Phoenix, or climbing mountains.
After class one weekend, we had some extra time, so we went up to Lake Saguaro and rented a boat with Dr. Rodney Ridley. Four Peaks Mountain seemed so close to the lake. Maybe we'll hike there eventually.
It was a beautiful day to travel far along the Salt River. Somehow, the rock structures out here never get old. We took the time to explore a random cave on the riverbank. After a short climb, we had a beautiful view of the area. I guess our weekend plans for class were more exciting than I thought.
We also hiked another mountain near Mesa, this time a bit bigger. The Superstition Mountains made our last hike seem like nothing. This time, we had a net elevation of 2,800 feet rather than 1,200 and hit a final elevation of 5,100 feet.
I've made this statement to the point that it has become cliché, but words and pictures simply do not do this justice. I'm honestly not sure if my perception of reality even does it justice. We're reaching new heights out here, and not just on the weekends.