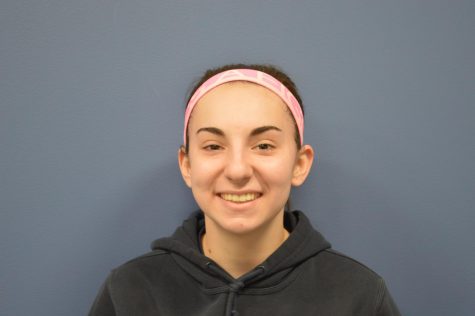 Maddie is a sophomore criminology, psychology, and sociology triple major. She also has a concentration in anthropology and a minor in women and gender studies.
Davis joined The Beacon as a staff writer in the Fall 2017 semester, before becoming the assistant news editor in Spring 2018.
Aside from writing for news, she admires Tom Brady and enjoys the New England Patriots and music.
Maddie Davis, Assistant News Editor
Apr 16, 2018

Profile of a new professor: Ms. Alisha S. Pitchford, chemistry

(Story)

Apr 16, 2018

Women and Gender Studies Conference features keynoter, Guerrilla Girl Donna Kaz

(Story)

Apr 09, 2018

New Sordoni exhibit opens with the collections of Andrew Sordoni

(Story)

Mar 26, 2018

Profile of a new professor: Dr. Joshua M. Blechle, Chemistry

(Story)

Mar 26, 2018

Students, faculty join 'March for our Lives' in Philadelphia

(Story)

Mar 19, 2018

Faculty and students discuss possibility of squirrels in Waller Hall

(Story)

Mar 19, 2018

Profile of a Professor: Dr. Xiaoming Mu, mechanical engineering

(Story)

Mar 19, 2018

Wilkes offers new majors and minors for undergraduate students

(Story)

Feb 26, 2018

Profile of a Professor: Dr. Carole Baddour, mechanical engineering

(Story)

Feb 19, 2018

Students, faculty react to White House domestic violence allegations

(Story)

Feb 19, 2018

Wilkes welcomes United Nations Rep. Charles Chauvel to campus

(Story)

Feb 12, 2018

Wilkes welcomes four Panamanian diplomats

(Story)

Feb 12, 2018

Black History Month lecture series: Straight Outta History

(Story)

Feb 05, 2018

Maintence technician awarded Quarterly Colonel Award

(Story)

Feb 05, 2018

King's College buys Times Leader building on Public Square

(Story)

Feb 01, 2018

Rare autoimmune disorder to be highlighted at upcoming presentation

(Story)

Feb 01, 2018

Henry's Dining Hall fitted with new renovations

(Story)

Nov 13, 2017

Cultural Film Series continues with 'Wilhemina's War'

(Story)

Nov 13, 2017

Profile of a New Professor: Meet Dr. Caroline Fortunato

(Story)

Nov 13, 2017

Student Government launches app

(Story/Media)

Nov 08, 2017

Lambda Kappa Sigma to hold Turkey Tea Luncheon at S.U.B.

(Story)

Oct 30, 2017

United Nations Rep. speaks on global sustainability

(Story)