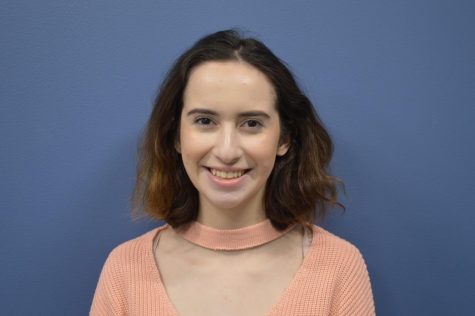 Cabrini is a junior psychology and communication studies double major. She also holds a minor in women and gender studies.
Cabrini started as a staff writer in the Spring 2017 semester, before becoming the news editor in Fall 2017. She currently works with Maddie Davis as they both share the co-news editor role.
On top of journalism, she enjoys art, movies and music.
Cabrini Rudnicki, Co-News Editor
Aug 19, 2019

The Founder's Gala: Eugene Roth, Esq. '57 awarded President's Medal

(Media)

Aug 30, 2019

University reveals new athletics logo

(Story/Media)

Aug 19, 2019

Students react to Ralston Athletic Complex renovations

(Story)

Apr 16, 2019

Sordoni Art Gallery holds curator lecture and reception

(Story/Media)

Apr 09, 2019

Generation Rx holds second annual opioid awareness walk

(Media)

Apr 09, 2019

Panamanian exchange MEDUCA 10 students visit area schools

(Story)

Apr 09, 2019

Sordoni Art Gallery hosts bonsai lecture

(Story)

Apr 02, 2019

New opportunities for elementary and early childhood education majors

(Story/Media)

Apr 02, 2019

United Nations Lecture Series hosts lecture on climate change

(Media)

Mar 26, 2019

UN Lecture Series features UN Rep. Dawda Jobarteh

(Media)

Mar 26, 2019

Barron's education program comes to the Sidhu School of Business

(Media)

Mar 26, 2019

New online masters of business administration program to be offered

(Story)

Mar 19, 2019

Student Government hold semi-annual Casino Week

(Story/Media)

Feb 19, 2019

Psychology Dept. Hosts Clinical Social Worker for Addiction Talk

(Media)

Feb 19, 2019

Diversity Office, SHINE to host African-American read-in

(Story)

Feb 19, 2019

Public Safety Discusses Recent Shooting near Campus

(Story)

Feb 13, 2019

Campus Interfaith starts lunch-and-learn series with Islam

(Story)

Feb 13, 2019

Pharmacy, nursing students take on Script Your Future challenge

(Story)

Feb 08, 2019

University given doctoral accreditation by Carnegie

(Story)

Oct 30, 2018

Students react to Casino Week budget proposal

(Story)

Oct 30, 2018

Pharmacy students help with the collection of expired medication

(Story)

Oct 30, 2018

Loud Silence: Expressions of Activism

(Story)

Oct 24, 2018

Writer Richard Louv explores nature-deficit disorder at lecture

(Story/Media)

Oct 24, 2018

Diversity and Inclusion Conference held

(Media)

Oct 01, 2018

Marsy's Law PA holds presentation on campus safety

(Story)

Oct 01, 2018

Theatre Department changes musical following student concerns

(Story)

Oct 01, 2018

Wilkes-Barre Chamber Spotlight holds Women's Entrepreneurial Series

(Story)

Sep 24, 2018

Panamanian students celebrate culture on Square

(Story)

Sep 20, 2018

Family Business Alliance holds presentation on sexual harassment

(Story)

Sep 10, 2018

Campus changes accomodate record-breaking first-year class

(Story/Media)

Sep 10, 2018

'A Checkerboard of Nights and Days': Iran Fahmy holds author talk

(Story/Media)

Aug 29, 2018

Sordoni Art Gallery, SHINE collaborate for children's summer camp

(Story)

Aug 29, 2018

Students to return to major campus construction updates

(Media)

Apr 16, 2018

Communication Studies' 2018 Bigler Journalism Conference

(Story)

Apr 16, 2018

Director of UNIC holds lecture as part of United Nations Lecture Series

(Story)

Apr 09, 2018

CODIE co-sponsors one-man show: "The Trouble with My Name"

(Story)

Apr 09, 2018

50th anniversary of Martin Luther King Jr's death commemorated

(Story)

Mar 26, 2018

Students, faculty react to recent firings of the White House

(Story)

Mar 26, 2018

Director of non-profit MAVUNO speaks on African sustainability

(Story)

Mar 19, 2018

Wilkes-Barre Ceasefire

(Story)

Feb 26, 2018

Nursing students rescue ill Panamanian exchange student in SUB

(Story)

Feb 26, 2018

Norman Mailer Center partnership announced

(Story)

Feb 19, 2018

Nursing department hosts Women's Reproductive Health Panel

(Story)

Feb 12, 2018

Sordoni Art Gallery holds first 'Art in Context' lunchtime lecture

(Story)

Feb 05, 2018

Students and faculty react to 60th annual Grammys

(Story)

Feb 05, 2018

Sordoni Art Gallery holds artist lecture for newest exhibit

(Story)

Feb 01, 2018

Prof. awarded 'PA Acceleration Educator of the Year'

(Story)

Nov 13, 2017

Students and faculty react to recent Texas church mass shooting

(Story)

Nov 13, 2017

Local business looking for volunteers for Dinners for Kids program

(Story)

Oct 30, 2017

Pharmacy Department holds 'Brown Bag Medication Review'

(Story)

Oct 30, 2017

Changes to D2L announced

(Story)

Oct 30, 2017

Profile of a new professor: Dr. Kedir Tessema

(Story)

Oct 30, 2017

Sordoni hosts visiting professor's lecture on Warhol

(Story)

Oct 09, 2017

Manuscript Society celebrates 70 years, holds gathering

(Story)

Oct 09, 2017

Professor named 'Distinguished Young Pharmacist'

(Story)

Oct 02, 2017

Sport Management club networks in Philadelphia

(Story)

Sep 25, 2017

Wilkes Admins. discuss Betsy DeVos's Title IX criticism

(Story)

Sep 18, 2017

Disaster, flood preparedness top priority at Wilkes

(Story)

Sep 13, 2017

Psychology students, faculty, present research to the APA

(Story)

Sep 13, 2017

Students celebrate new media and communication center, thank donors

(Story)

Sep 13, 2017

Stark Learning Center construction updates

(Story)

Aug 27, 2017

Wilkes holds annual Founders' Gala, students reflect on scholarships

(Story)

Jul 06, 2017

Former player reflects on memories of the Mother of Wilkes' Women's Athletes

(Story)

Apr 11, 2017

Students share mixed feelings about Stark renovations

(Story)

Apr 07, 2017

Wilkes University community reacts to missing girls in D.C.

(Story)

Mar 27, 2017

Psychology professor finds his way through experiences

(Story)

Mar 20, 2017

Conversing with a coordinator: Kristin Osipower

(Story)