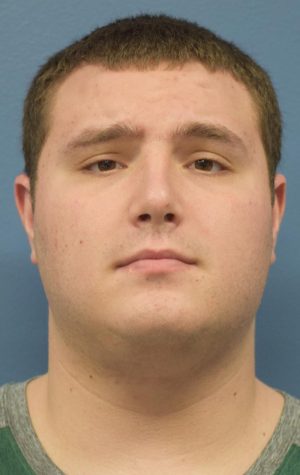 Ben Mandell is currently the assistant sports editor. Mandell began as a staff writer in Fall 2017 and was promoted to his current role in Spring 2018.
He is a sophomore majoring in communication studies.
Mandell is responsible for assisting the sports editor in all aspects of production.
He is a member of the Wilkes Football team and also plays an important role as a member of the 90.7 WCLH Sports Team, Wilkes University Radio, and was recently promoted to Assistant Sports Director.
Ben Mandell, Assistant Sports Editor
Apr 17, 2018

Wilkes tops King's in blowout fashion 12-5

(Story)

Apr 10, 2018

SB: Lady Colonels split doubleheader with King's

(Story)

Apr 02, 2018

UPDATED: Beacon Sports team announces first "Athlete of the Year" tournament

(Story)

Mar 05, 2018

MBB: Wilkes' Season ends with ECAC semifinals loss

(Story)

Mar 03, 2018

MBB: Wilkes advances to ECAC semifinals with 77-62 win over Penn State-Behrend

(Story)

Feb 26, 2018

BREAKING: Wilkes earns spot in ECAC Tournament

(Story)

Feb 26, 2018

MBB: Metz named MAC Freedom Coach of the Year

(Story)

Feb 26, 2018

MBB: Colonels fall in MAC Freedom playoffs

(Story)

Feb 21, 2018

MBB: Colonels fall to Eastern in heartbreaking fashion on Senior Day

(Story)

Feb 19, 2018

MBB: Colonels fall to Eastern in heartbreaking fashion on Senior Day

(Story)

Feb 14, 2018

MBB: Offense explodes as Colonels rout Monarchs 101-72

(Story)

Feb 11, 2018

MBB: Colonels clinch postseason berth with win over Misericordia

(Story)

Feb 09, 2018

MBB: Colonels inch closer to playoffs with win over DeSales

(Story)

Feb 05, 2018

AOTW: Tommy Bowen, junior basketball player

(Story)

Feb 01, 2018

Colonels take care of business with 86-59 win

(Story)

Jan 30, 2018

Colonel Athletics in brief — Jan. 30

(Story)

Jan 30, 2018

MBB: Colonels escape trap game with 58-57 win over Delaware Valley

(Story)

Jan 30, 2018

MBB: Colonels top Cougars in OT thriller for pivotal road win

(Story)

Jan 25, 2018

MBB: Colonels top Cougars 87-82 in OT thriller

(Story)

Jan 18, 2018

MBB: Colonels make a statement with big win over DeSales

(Story)

Dec 06, 2017

MBB: Wilkes rolls past visiting Summit in rout

(Story)

Dec 02, 2017

MBB: Late surge fallen short as visiting Messiah drops Wilkes

(Story)

Nov 21, 2017

MBB: Colonels stay perfect with 74-65 win over PSU Wilkes-Barre

(Story)

Nov 15, 2017

MBB: Wilkes drops Penn State Hazleton in 83-58 rout

(Story)