AOTW: David Kutteroff, freshman football player
The Beacon: Male Athlete of the Week Sept. 29 – Oct. 5 Why David Kutteroff was selected: Kutteroff completed all six of his kicking attempts on the day, that being two field goals and four extra points, in the team's 34-14 win against Alvernia on Sept. 29.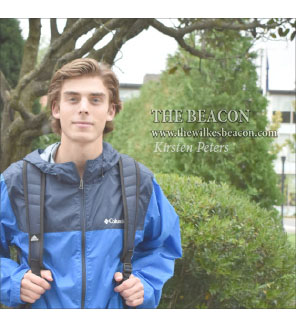 Name: David Kutteroff
Year: Freshman
Major: Undecided
Hometown: Stroudsburg, Pa.
High School: Stroudsburg HS
Position: Kicker
Driving force for your decision to come to Wilkes?
It felt like home when I stepped on the campus and it provided me with many opportunities.
Post-graduation plans in terms of a career?
A possible career in psychology.
Favorite building on campus?
The SUB.
What came first? The chicken or the egg?
The egg.
Hopes for this season as a Colonel?
To compete for a postseason berth.
When/Why did you first begin playing?
I began playing football in my freshman year of high school. A family friend, who was the coach of my high school's freshmen football team, asked me to be the kicker.
Favorite thing to do during practice?
Kicking footballs through the yellow posts.
If you had to choose one thing about your program that you could improve, what would it be?
To have more team-building activities.
Coke or Pepsi?
Neither. I prefer Sprite.
Favorite Professor?
Dr. Prado.
Favorite meal to eat on campus?
Buffalo Macaroni and Cheese.
Other interests or hobbies off of the field?
Off the field, I like hanging out with friends, playing soccer, listening to music and singing along to it.
Most influential person in your life?
I cannot choose only one because so many people have influenced my life. The top two people would have to be my mom and dad.
A quote you live your life by?
"Do your best."
What does "Be Colonel" mean to you?
To me, "Be Colonel" means working hard and doing things the right way – no taking shortcuts or finding the easy way out.
If you could have dinner with a famous person from the past, who would it be?
Alexander Hamilton.
Anyone to give a shout-out to?
I would like to give a shout-out to my brother, Matthew.
-Compiled by Kirsten Peters, Co-Sports Editor