AOTW: Allison Peet, junior soccer player
The Beacon: Female Athlete of the Week Sept. 29 – Oct. 5 Why Allie Peet was selected: Peet scored the lone goal in the 70th minute of play in the team's MAC Freedom opener against Delaware Valley on Sept. 29, giving the Colonels the 1-0 shut-out.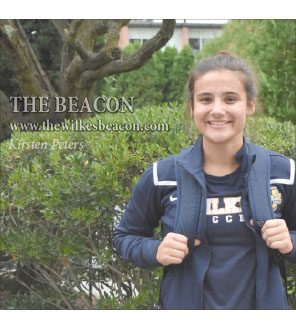 Name: Allie Peet
Year: Junior
Major: Pharmacy
Hometown: Sayre, Pa.
High School: Sayre HS
Position: Forward
Driving force for your decision to come to Wilkes?
My driving forces to come to Wilkes were the great pharmacy program and the community atmosphere here on campus.
Post graduation plans in terms of a career?
After I graduate, I am hoping to become a clinical pharmacist.
Favorite building on campus?
My favorite building on campus would have to be Starbucks.
What came first? The chicken or the egg?
The egg.
Hopes for this season as a Colonel?
This season, I hope that we can win the MAC championship.
When/Why did you first begin playing?
I began playing soccer when I was five because my sister played and I wanted to be like her.
Favorite thing to do during practice?
My favorite thing to do during practice is spend time with Dani.
If you had to choose one thing about your program that you could improve, what would it be?
If I could change one thing about our program, I would love to see an increase in the attendance at our games.
Coke or Pepsi?
Pepsi.
Favorite professor?
Dr. Roke-Thomas.
Other interests or hobbies off of the field?
Watching Netflix.
Most influential person in your life?
My mom.
Favorite meal to eat on campus?
My favorite meal to eat is a breakfast sandwich from Grille Works.
A quote you live your life by?
"On coud nine, feeling fine."
If you could have dinner with a famous person from the past, who would it be?
John Lennon.
What does "Be Colonel" mean to you?
To me, "Be Colonel" means doing the right thing, always.
Anyone to give a shout-out to?
I would like to give a shout-out to my roommates – they're the best people I know.
-Compiled by Kirsten Peters, Co-Sports Editor